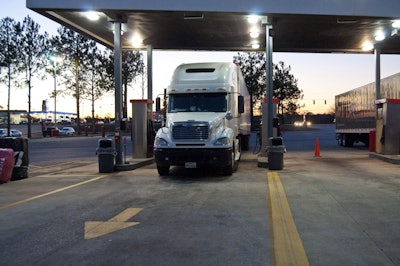 The Federal Trade Commission is alleging that Comdata parent company FleetCor bilked "hundreds of millions of dollars" from its customers in the trucking and commercial fleet industries in hidden fees through its various fuel cards after making promises about helping customers save on fuel costs.
FleetCor issued a statement saying FTC's claims "are without merit." The company says it intends "to vigorously defend ourselves against the FTC in court," and adds that it believes the complaints are "based upon fundamental misconceptions of the company, its customers and its products."
The company says its customer disclosures "are clear and communicated repeatedly," and that its fees are in line with industry standards and are understood by its customers.
In a complaint filed in the U.S. District Court for the Northern District of Georgia in December, FTC alleges that the company and its CEO, Ronald Clarke, falsely told customers they would save money by using their fuel cards, be protected from unauthorized charges, and have no set-up, transaction or membership fees.
The complaint outlines various fees FleetCor charged customers in ways they did not detect, totaling "at least hundreds of millions of dollars, harming tens of thousands of customers," FTC says. The complaint states that "at least tens of thousands of customers have complained about these practices to the company, government agencies and the Better Business Bureau."
Specific to trucking, FTC alleges that FleetCor charged $1.7 million in "high credit risk account fees" without notice solely because the customers operated in the trucking industry.
FTC also alleges that FleetCor's promises for specific per-gallon fuel savings using its fuel cards "were false or unsubstantiated;" that the company's fraud controls allowed unauthorized purchases; that the cards restricted to "fuel only" purchases permitted non-fuel purchases; and that FleetCor charged fees for set-up, transactions or membership, including "convenience" transaction fees for using the fuel cards at certain locations.
The allegations add that the company billed for fees, interest, finance charges and programs for which customers didn't provide consent.
The complaint includes advertisements from FleetCor's Comdata, Fuelman, BP Business Solutions, Universal Advantage Fleet Card and more.
FTC says FleetCor reported $2.4 billion in annual revenues in 2018. FleetCor says the allegations are directly related to its U.S. direct fuel card business within its North American Fuel Card business, which generates approximately $600 million in annual revenue.