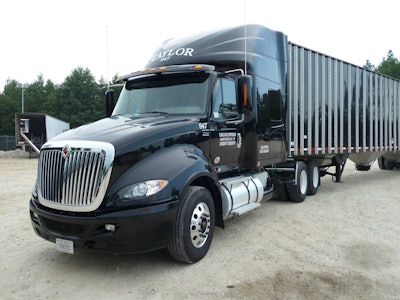 Now-defunct mega carrier Celadon (No. 41 in the CCJ Top 250) has received a $14.5 million bid for its Hope Mills, N.C. based bulk haul subsidiary Taylor Express, according to bankruptcy documents filed Friday.
The bid comes from New Hampshire-based holdings company White Willow Holdings and is backed by Luminus Management, the investment management firm who spent $165 million to acquire nearly half of Celadon just months before the embattled carrier folded.
The stalking horse offer essentially acts as reserve bid for Taylor Express and ensures the final sale price at auction, which is set for Wednesday, will be at least $14.5 million – a more than 70% discount from the $49 million Celadon paid to purchase the carrier 5 years ago.
Typical in stalking horse arrangements, White Willow's bid includes a $375,000 break-up fee, an expense reimbursement of up to $187,500 and initial overbid requirement of $100,000.
Celadon filed Chapter 11 bankruptcy last month, shuttering all business units as of Dec. 9 except for Taylor Express, which was the target of a sale.
Since 2017, Celadon had been trying to rebound from a scandal that rocked the company's finances. The New York Stock Exchange halted trading of Celadon stock in mid-2017 after the company pulled required financial filings.
The company hasn't filed quarterly earnings reports for any quarter since late 2017. In its most recent filing, for the first quarter of 2017, Celadon reported a loss of $10 million. The company has since paid a $42 million fine to settle a criminal probe brought by the Securities and Exchange Commission and the Department of Justice. The company also paid $5.5 million to settle lawsuits brought in the wake of its de-listing.
In September, Celadon announced it had secured $165 million in financing intended to refinance its debt and replace aging company equipment. The same month, the company also announced the hiring of former Swift CEO Richard Stocking to help lead its turnaround efforts.
Earlier this month, a federal bankruptcy court okayed Celadon's request to pay drivers at least partial compensation amidst its ongoing Chapter 11 proceedings. The court allowed the carrier to pay $4.6 million in wages to owed to drivers and other employees, with $900,000 set aside for owed compensation to independent contractors. Another $3.4 million was listed for unpaid compensation to drivers and other personnel, and $300,000 was listed for owed employee benefits.