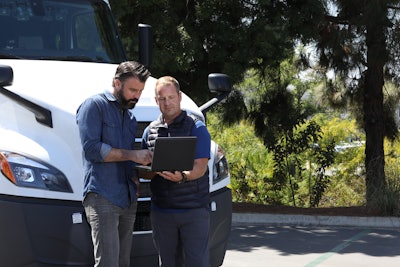 In an increasingly crowded video telematics market, Lytx announced that nearly 25% of its new customers in 2019 were fleets who switched from using another video solution. The company now has more than 3,300 customers, ranging from local landscape management services to nationwide transportation and logistics organizations.
"We've seen a trend of clients switching to Lytx from other video systems sold to them as 'plug-and-play' solutions that promote thrift and minimalism," said Dave Riordan, chief client officer at Lytx. "Our clients are looking for simplicity, but not at the expense of quality and performance."
According to Lytx, New Mexico-based Mesilla Valley Transportation first signed with different a video provider in 2016 but reported the product did not provide the necessary information for its 1,400-vehicle fleet.
The previous provider handed over video data without context or analysis, leaving it up to Mesilla Valley management to figure out what to do with the information. The Lytx Video Platform and DriveCam Event Recorder captures vide and processes it through machine vision and artificial intelligence-powered algorithms, which are validated by professional reviewers.
"Though we had used video telematics for years, our provider was missing collisions and required a great deal of work on our end to track down the video recordings we needed," said Mike Kelley, chief information officer at Mesilla Valley Transportation. "When we began re-evaluating our provider options this year, we quickly realized that Lytx could provide all the pieces we were missing: seamless access to our fleet data, support for understanding and utilizing that data and not a single collision missed."
Scamp Transport, a bulk petroleum transportation company with four locations across British Columbia, had a similar experience for its fleet of 70+ vehicles. The company installed add-on "plug-and-play" camera systems. The system required managers to physically download content from a hard drive in each vehicle to access it, then sift through unmarked video to find the clip they needed.
"I can't afford to have my team sit behind a computer for eight hours a day sifting through video. We need technology that is sensitive enough to capture risky driving events, but with an added layer of review and reporting so we know each clip that gets delivered is worth our while," said Timo Annala, HSSE manager at Scamp Transport.
M&W Logistics, a Nashville-based transportation and logistics fleet, deployed Lytx in 2019. After working with a different telematics company for several years, the leadership team decided to revisit the market as its former provider was phasing out its technology.
"We quickly saw that Lytx's hardware itself was the most advanced, but also that Lytx was willing to take it a step further," said Chris Woody, safety manager at M&W. "The advanced algorithms, extensive review process and personalized, actionable insights that Lytx provides set it apart from others in the industry."