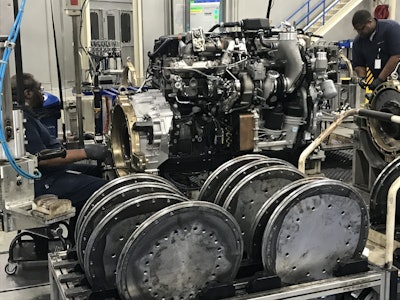 North American Class 8 orders for January reached 17,700 units, according to FTR, following a pattern of sub-20,000 trucks that has lasted more than four months.
January 2020 was down 10% month-over-month but up 12% year-over-year, suggesting fleets are only ordering the equipment that fills known needs. FTR forecasts Class 8 orders to remain in this range through the first quarter of the year.
"The Class 8 market remains in equilibrium with orders well matched to production, stuck at close to replacement demand levels," said Don Ake, FTR vice president commercial vehicles. "Fleets remain profitable and are continuing to replace older units according to planned cycles. The smaller fleets are being more cautious because revenue is declining from the previous years."
Class 8 orders for the past 12 months have totaled 181,000 units.
"The freight market is still sluggish, but it has plateaued at a high level," Ake added. "The market is pausing to take a breather after a couple of banner years and the equipment market is stagnant as a result."
Even though trade deals have reduced the amount of economic uncertainty, Ake said the upcoming election is restricting business investment both inside and outside the industry.