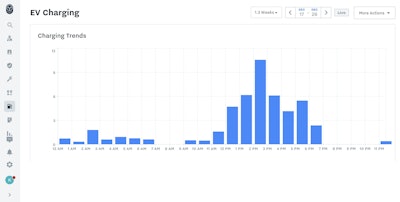 Electric and hybrid vehicles have cost saving opportunities for fleets, but also come with unique operational challenges.
Samsara, an ELD and fleet management systems provider, announced a new dashboard with features that give its electric vehicle (EV) customers insights into vehicle state of charge, charging infrastructure, and efficiency.
"Since EVs can take over eight hours to fully charge, EV fleets require a major shift in driver behavior. Those unaccustomed to EVs might forget to stop and charge in time, putting themselves at risk of being unable to complete their job," said Rushil Goel, vice president of product management.
New features available from Samsara give real-time charging status and alerts for vehicle state of charge and charging status. The system also gives visibility into fuel, energy levels, and nearby charging stations to dispatch the right vehicle with sufficient battery charge to complete the job.
EV fleets can now measure vehicle performance for all vehicles — fuel, electric, or hybrids — to determine if they are performing optimally as well as monitor charging behaviors, the company says.
Samsara's real-time State of Charge Reports show current and historical vehicle state of charge. Fleet managers can also find the closest charging station with an EV Charge Stations Map Overlay in the dashboard.
Additional reporting on fuel and energy usage show which vehicles are performing best across an entire fleet to stay on top of energy consumption, carbon emissions, effective MPG, and percentage of electric miles driven vs. fuel usage for plug-in hybrids.
"It's not just a business priority for us to operate an eco-friendly fleet, it's important to our customers as well," said Gary Bauer, CEO of Bauer's Intelligent Transportation, which provides transportation for events. "With the visibility Samsara provides into our EVs, we can ensure that drivers are efficiently charging their vehicles and we can actualize the benefits of going electric."
Samsara's complete fleet management platform is available today for all existing customers.