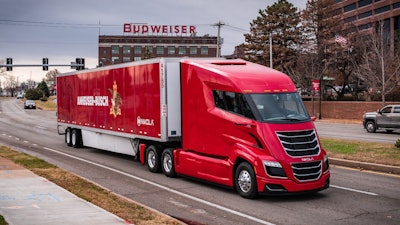 Nikola Corporation announced Tuesday morning that the company has entered into a definitive agreement with VectoIQ Acquisition Corp., a publicly-traded special purpose acquisition company, that once closed will see the hydrogen and battery electric truck maker listed on the NASDAQ stock exchange under the ticker NKLA.
Upon the closing of the transaction, the combined company will be named Nikola Corporation. The implied enterprise value at closing of the deal is $3.3 billion and Nikola said via release Tuesday transaction proceeds will help accelerate production, allow Nikola to break ground on its state-of-the-art manufacturing facility in Coolidge, Arizona, and begin its hydrogen station infrastructure roll-out. The company expects to generate revenue by 2021 with the roll- out of its BEV truck, followed by FCEV truck sales starting in 2023 and the initial build out of hydrogen fueling stations to serve Nikola customers' fleets, like Anheuser-Busch.
"We are on a roll. You couldn't ask for better news for the energy and tech industry," said Trevor Milton, Founder and CEO of Nikola. "The world is transitioning to zero emission platforms and Nikola is the leader for heavy duty vehicles. We believe we have a differentiated business model built on economics, not government subsidies. We now need to double down and speed up the timelines and get to market."
Nikola claims to have more than $10 billion in pre-order leases to-date and a joint venture in place with European industrial vehicle manufacturer IVECO. Nikola's business model supplies both the truck and hydrogen fueling infrastructure.
"In our two-year quest to find a partner that was a proven technology leader and focused on making a global difference, Nikola was the clear winner," said Stephen Girsky, CEO of VectoIQ and former Vice Chairman of General Motors Corporation. "Nikola's vision of a zero-emission future and ability to execute were key drivers in our decision."
Milton will serve as Executive Chairman of the combined company. Mark Russell, who joined Nikola as president in 2019, will serve as CEO.
The boards of directors of both VectoIQ and Nikola have unanimously approved the proposed transaction. Completion of the proposed transaction is subject to approval of VectoIQ and Nikola stockholders and other customary closing conditions, including a registration statement being declared effective by the Securities and Exchange Commission, and is expected to be completed in the second quarter of 2020.