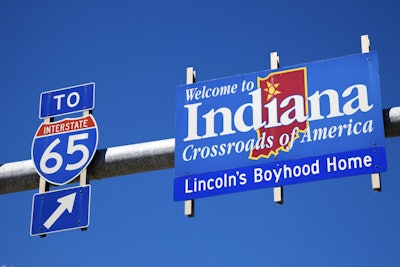 Trucking news and briefs for Friday, March 13, 2020:
Indiana judge dismisses lawsuit over increased truck tolls
The Owner-Operator Independent Drivers Association says it is "likely to appeal" an Indiana court's ruling to dismiss its lawsuit over toll increases aimed at Class 3 and larger trucks in the state.
The group filed the class action lawsuit in January 2019 after Indiana instituted a 35% increase in toll price for trucks operating on I-80 and I-90. The lawsuit called for the toll increases to be overturned and for refunds of tolls paid since the increase took effect in October 2018.
OOIDA alleged that the increase in tolls violates the Commerce Clause and the Privileges and Immunities Clauses of the U.S. Constitution.
Judge Richard L. Young with the U.S. District Court in the Southern District of Indiana denied OOIDA's motion to have the class certified based on a report and recommendation from a magistrate judge. The report and recommendation stated the "new toll structure was not subject to dormant Commerce Clause scrutiny," and added that OOIDA "failed to state a claim for unlawful discrimination under the Privileges and Immunities Clauses because vehicles traveling within Indiana and between states pay the same distance-based tolls."
Pennsylvania expanding spotted lanternfly quarantine zone
The Pennsylvania Department of Agriculture (PDA) this month added 12 counties to the state's spotted lanternfly quarantine zone ahead of the invasive insect's spring hatch.
The quarantine began on May 1, 2019, and requires truck drivers who stop in quarantined counties to have a Spotted Lanternfly Permit, which is given after completing a free online course. Trucking companies that travel through but don't stop in the quarantined counties are not required to obtain a permit. Additionally, drivers who stop in the quarantine zone just to fuel and keep moving are not required to have a permit.
PDA Secretary Russell Redding says the new counties added to the zone are not completely infested with the pest, but they have a few municipalities with a known infestation. Allegheny, Beaver, Blair, Columbia, Cumberland, Huntingdon, Juniata, Luzerne, Mifflin, Northumberland, Perry, and York have been added to the quarantine for 2020.
The quarantine zone also includes certain counties in New Jersey, Delaware and Virginia. States can levy fines against truckers who do not comply with the order with criminal citations of up to $300 per violation and civil penalties up to $20,000 per violation.
The spotted lanternfly is an invasive species native to Asia that has the potential to cause considerable damage to many crops in Pennsylvania and beyond, including forest products, grapes, apples, peaches and more.
Canadian truck show postponed over coronavirus concerns
In addition to the announcement that the Mid-America Trucking Show in Louisville will be canceled for 2020, organizers of Truck World, the national trade show for Canada's trucking industry, announced they are postponing their event to later in the year due to concerns over the new coronavirus, COVID-19.
The event will now be held June 4-6 at the International Centre in Mississauga, Ontario, just outside of Toronto. It was originally scheduled for April 16-18 at the same venue. Organizers say the corresponding TruckTech fleet maintenance summit is being rescheduled to Friday, June 5.
"There is no higher priority than the health and safety of our community, exhibitors, attendees and team members," said Joe Glionna, president of Newcom Media, which hosts the show. "This decision is being made after consulting with industry suppliers and manufacturers, and they have been overwhelmingly supportive in our decision to change the dates. It's the right thing to do."
Organizers say Truck World features more than 500 industry suppliers and draws more than 15,000 attendees from the Canadian trucking industry.