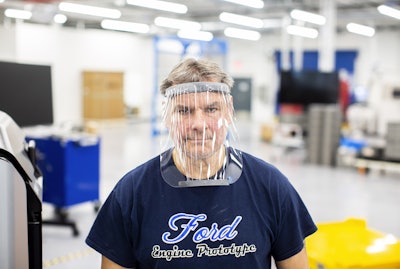 Truck drivers aren't the only industry stakeholder working to rescue the U.S. from the clutches of the coronavirus.
With truck and automotive manufacturing practically at a standstill, demand for driveshafts and axles aren't exactly at their peak, prompting Dana Inc. to pivot resources to support a greater and more immediate, need: face shields for medical professionals.
Hospitals across the country are running low or already out of personal protective equipment (PPE) like plastic face shields and N95 face masks. At its Maumee, Ohio, Advanced Manufacturing Center, Dana Inc. has dedicated 10 3-D printers to make parts for face shields while also sourcing other components for the shields. The company is assembling about 500 masks per week in Maumee, donating the end product to area hospitals.
The Maumee facility handles much of Dana's low-volume production work on axles, drive shafts and gears, and also does tooling for Dana's 150 production facilities across 34 countries.
"This facility does a lot of pre-process manufacturing development and rapid prototyping capacity," Dana Vice President of Commercial Vehicles Ryan Laskey said, adding expertise in these two fields is what enabled the facility to pivot into the medical field quickly.
The company is currently producing about 70 shields per day, far short of the 10,000 that had been requested by one local care provider alone.
"Clearly there's a need," he said. In order to meet the need, Laskey said Dana is searching for local partners with which to share their design and method to expand production. "We've designed this that it's more of an open source design."
Laskey said Dana has been reaching out to local schools, many of which have tech programs that feature prototyping machines now sitting idle since schools have been closed, to share its CAD files and assembly process.
The Advanced Manufacturing Center is also working with local hospitals on developing intubation boxes, which can be placed around the heads of COVID-affected patients to filter the air they breathe out, protecting doctors and nurses but still allowing them access to the patient.
The coronavirus outbreak has been a rally cry for many manufacturers who have been shut down by abundance of caution, government order or by waning demand.
Ford is working to get more PPE into the pipeline. Alongside the UAW, the automaker is assembling more than 100,000 plastic face shields per week at Ford subsidiary Troy Design and Manufacturing's facilities in Plymouth, Michigan, and using its in-house 3D printing capability at its Advanced Manufacturing Center in Redford, Michigan to produce PPE components. The face shields fully block the face and eyes from accidental contact with liquids and when paired with N95 respirators can be a more effective way to limit potential exposure to coronavirus than N95 respirators alone.
Ford North America Product Communications Manager Mike Levine said the company has shipped 325,000 plastic face shields to medical workers and first responders as of March 31, "and plans to have shipped 1,000,000 by end of this week."
"Ford has made so many face shields that it's run short on elastic needed for headbands," he added, "[and is] innovating a new way to fasten shields to heads using trimmed vehicle door seals."
And they sent my hospital so many face shields!! We were using DIY face shields, but they rescued us 👏🏻👏🏻

— notpc (@Beanyou1) April 5, 2020
General Motors expects to deliver its first 20,000 masks to frontline workers mid-week. The automaker pooled together more than 30 of its engineers, designers, buyers and manufacturing team members to help with product development, sourcing materials and equipment and planning the production process.
"The first people we called were those who work with fabric vehicle components," said Karsten Garbe, GM plant director, Global Pre-Production Operations. "In a few days, the company's seat belt and interior trim experts became experts in manufacturing face masks."
Once the Warren, Michigan, assembly line is running at full speed, GM expects to produce up to 50,000 masks a day.