The number of coronavirus cases in the United States has more than doubled over the past seven days, according to data compiled by the CDC, and as those numbers continue to rise, freight demand seen by carriers surveyed weekly by CCJ has gone in the opposite direction.
Goaded by stockpiling buying sprees, household and consumer goods carriers have fared better than other segments during the early onset of the pandemic early last month. However, those applications are starting to feel the squeeze as the waves of concerned shoppers begin to ebb.
"Our business was strong for two weeks, but [the week ending April 4] we're seeing shippers cancel trucks on lanes which are normally steady weekly loads," a for-hire reefer carrier with up to 100 trucks commented on CCJ's most recent survey. "Grocery stores closing their deli departments has really impacted one of our shippers. We now have three of our largest food shippers negatively impacted by folks cutting back on their spending. I believe folks initially rushed to the grocery to stock up – hoard – everything they thought they might need because they didn't know if there would be anything left the next time they went shopping. So now the foot traffic must be slowing at the grocery stores."

Click here to view our full coverage of the coronavirus' impact on the trucking industry from the leading industry publications of Commercial Carrier Journal, Overdrive, Truckers News and Trucks, Parts, Service.
"Originally, we saw the huge demand that most other carriers saw, particularly for those in the grocery industry," added a for-hire carrier with more than 1,000 units. "Now we're seeing many areas that are slow and falling. It will be a challenge to keep the trucks utilized if this continues."
Nearly 60% of carriers with 100 trucks or less surveyed last week reported a drop in freight due to the coronavirus. Large carriers with more than 100 trucks are doing slightly better, with 44% reporting a decrease. The overall number of carriers reporting a drop-off in loads jumped 15% week-over-week while the number of carriers reporting an up-tick in freight last week fell 7%.
"We have been in business for 20 years and have never experienced such a loss in business and revenue," wrote a for-hire bulk carrier with less than 25 trucks, adding the company has already instituted driver lay-offs and parked trucks over a lack of freight.
Even in the lanes where business is steady, skyrocketing detention and virus-wary drivers have complicated difficult conditions brought on by depressed load volume.
"The demand for refrigerated units has increased, but many drivers do not want to go into the areas where the virus is raging," reported a for-hire reefer carrier with up to 100 trucks. "In addition, where they do go, the warehouses are not unloading them and they are burning their hours while sitting in a parking lot waiting for someone to figure out what to do, while they are denied access to a hot meal …We have also run into situations where we cannot get backloads, and if the driver sits, he makes no money."
"We had a surge last week, but the decline has begun due to plant shut downs," added a for-hire carrier with up to 100 trucks.
Optimism for what lie in store over the next 30 days has also waned in the last week, with 60% of respondents saying they expect freight levels to fall over the rest of the month – 12% more than the week prior.
The realities of a tough trucking environment have already started to settle in with 23% of respondents to last week's survey reporting a reduction in driver workforce – an increase of 10% from the week before. Job losses in non-driving roles jumped 8%, and 25% of respondents said they have canceled truck and/or trailer orders – a 6% increase over the week before.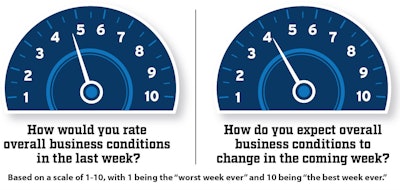 "Unfortunately the rates and use of dry vans has not picked up as much as one would think," responded one for-hire carrier with fewer than 25 trucks. "It's going to be a hard couple of weeks [and] it's not getting any better any time soon. I don't know if we can even survive this."
"We need help, and not on a first come, first served basis," added a for-hire carrier with up to 50 trucks. "We need to get back to work. The market is flooded with trucks, and that drives the prices down for the trucks that have loaded the same product for years. Keep prices up so that we can afford to supplement the business that we have lost."
Low fuel prices, and strength in local deliveries, have helped soften the blow to the extent possible.
"Very low fuel prices help drivers keep cost down and provides an incentive to stay in the game during this cautionary time," wrote a for-hire carrier with up to 100 trucks.