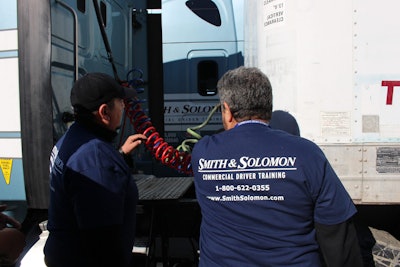 Smith & Solomon, a truck driver training and education company founded in the 1950s, has eight locations throughout New Jersey, Pennsylvania, and Delaware.
Its driver training routes go across state lines, making it necessary for the company to report interstate mileage for tax purposes. It also has common fleet challenges of maintaining equipment and tracking vehicle locations.
In January 2018, Smith & Solomon began using a telematics system from Azuga to get monthly reporting on mileage for each vehicle for IFTA tax purposes. The reporting saves the company up to 8 hours per month.
The company also gets diagnostic trouble codes (DTCs) alerts from Azuga to monitor the condition of trucks and schedule preventative maintenance.
Chris Barbayanni, fleet director of Smith & Solomon, uses the geofencing capabilities of Azuga to set a perimeter around its central repair shop. The alerts tell him when a vehicle in need of repairs is within proximity of the shop, so he can notify the on-duty mechanic that the truck is on its way.
Likewise, he can call a driver in a nearby vehicle to remind him or her to bring the vehicle in for maintenance.
Equipment location visibility and geofence alerts has resulted in improved engine care.
Smith & Solomon had used other fleet management products for years but had numerous issues with reliability and large upfront costs. This prompted Barbayanni to experiment with several other products to find the right fit for his company's needs and budget.
"[Azuga] had everything we were looking for," he said, "and it was at a great price."
Going forward, the company is exploring areas to expand its use of Azuga solutions, such as utilizing a DashCam to improve safety, insurance protection, and surveillance of valuable equipment.