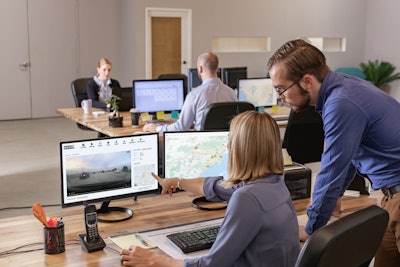 Fleet management technology continues to grow more powerful, but industry suppliers are also making it easier for users to find information, move more quickly through tasks, and for their customers to upgrade to the latest hardware and software.
This trend surfaced in three areas where technology suppliers announced new products and features during the past week.
Video intelligence
Verizon Connect has a new Integrated Video for Fleet offering for its enterprise fleet customers using its Fleet mobility platform. The new feature is an extension of its existing Integrated Video for Reveal platform.
Integrated Video uses artificial intelligence and machine learning to understand the details of specific driving events. With the smart dash-cam system, harsh driving events are captured and automatically classified in near-real time. The end user gets video analysis they can use to protect drivers from false claims, for coaching and rewards.
"The user experience and video classifications are continuously improving, helping businesses make more informed decisions that can lead to improved safety, productivity and efficiency within their fleet of vehicles," said Kevin Aries, head of global product success at Verizon Connect.
Additional features include Speed Overlay to view the speed of the vehicle directly within the video clip to determine if speed is a factor in an event, and Video on Demand to request video clips directly from the dash cam.
Fast video lookups
As one of the largest video telematics technology suppliers, Lytx has new map-based search features for users to immediately locate important video clips.
"These video-search features are significant advancements that enable fleets to take further advantage of their Lytx programs," said Jim Brady, Lytx vice president of product management.

Video Browse, a new feature available in Lytx's Fleet Tracking Service, brings together available telematics data and links to video directly into the Fleet Tracking map. The added functionality helps fleet managers access video while monitoring vehicle productivity, maintenance, track compliance or check on a customer complaint.
For example, a user can click an icon that indicates idling and immediately preview and browse video from that vehicle to determine the cause.
Map Search allows clients to self-locate video using an address or point of interest and general time frame to make it easier to respond to claims, verify service or pinpoint an incident.
"With around 800 vehicles, manually sifting through video footage from our event recorders isn't feasible," said Patrick Landreth, vice president of safety and human resources at Ozark Motor Lines, a Lytx client. "Compared to past providers, Lytx takes care of the heavy lifting, monitoring driving with its built-in analytics so we can respond quickly, protect our drivers, focus on driver coaching and maintain Ozark's strong brand reputation for safety and service."
Hardware as a service
Trimble has created a new Hardware-as-a-Service offering that simplifies the purchase process for its mobile fleet management platform. The new service bundles Trimble hardware and software into four packages for fleets to upgrade mobile technology without an upfront capital investment.
The company designed each bundle to help fleets predictably manage expenses while gaining access to the latest Trimble technology, 4G LTE connectivity and Android-powered user experience, as well as professional services.
The new bundles deliver core telematics and regulatory components with options that include CoPilot Truck in-cab navigation, Driver Retention Analytics, Automated Workflow and messaging.
All-in-one for public works
Technology suppliers also have new offerings for government fleets that simplify the purchasing of hardware and software systems.
Geotab launched a new all-in-one telematics and mobile fleet management offering for government and public works to give fleet managers full visibility of operational data on a single platform for all vehicle types — salt spreaders, snowplows, street sweepers, waste management vehicles, etc.
The new product, Geotab Public Works, has toolsets for compliance, cost control and road safety. Pre-built integrations are available for spreader controllers to measure material usage such as salt.
Geotab Public Works is a configurable Add-In on the MyGeotab platform that fleets can use to customize their database for their specific needs. In addition, users can access the Geotab Marketplace with a portfolio of mobile apps, software Add-Ins and hardware Add-Ons to further customize the platform.
Verizon Connect has now opened access to its Reveal for Government fleet and mobile resource management platform through Sourcewell purchase agreements.
Sourcewell is an independent government agency whose members include state and local government, public and private education, and nonprofits, and who manage the contract bidding process between its members and outside vendors.
Reveal for Government gives access to vehicle and driver information for fleet management that include maintenance schedule tracking and preventive alerts, instant verification of driver location, and behavior and automated reports.