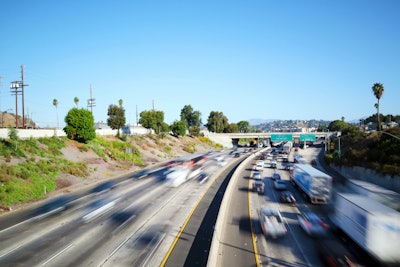 Developing a company culture that focuses on safety and your drivers themselves should be a top priority for all carriers, regardless of size, according to panelists in a session held Wednesday as part of the Federal Motor Carrier Safety Administration's Truck Safety Summit on Aug. 5.
The session, titled "What's Working II," focused on successes and best practices of the three panelists when it comes to safety at their fleets.
"Culture is everything," said Brett Sant, senior vice president of safety and risk management at Knight-Swift Transportation (No. 4 on the CCJ Top 250). "You have to have a real commitment to safety, and you have to be disciplined. If you're not committed and not disciplined when it comes to safety, your culture will break down pretty quickly."
Sant added that drivers are the most important part of a safe culture and said training should primarily be focused on having competent drivers.
"We really want a truck driver in every seat who is conscientious, competent and capable," he said. "Training is an ongoing process that really is controlled by the individual. It's our responsibility to empower the drivers with the training, resources and materials they need to be successful."
Despite working with a much smaller fleet, Dave Edmondson, vice president of safety and compliance at 400-truck tanker carrier J&M Tank Lines, echoed Sant's thoughts on culture.
"Getting that culture set to the mindset that safety becomes primary to anything else throughout the company is the key," he said. "Not just with the leadership and executive team, but down to the guys cleaning the tanks. You have to do it right."
The third panelist in the session, Ingrid Brown, owner-operator of one-truck carrier Rollin' B, LLC, had a similar take as Sant and Edmondson when it comes to drivers' roles in company safety.
"A driver makes a company safe, not the other way around," she said. "That gets left behind. With us being out here, training is such an important tool, and it doesn't just come from [trucking] schools or offices. It comes out on the road from seasoned drivers who pass along what's given to us. We need to listen to drivers more. I need to listen to my co-workers more. We get down into what's really going on. Keeping everybody educated is an ongoing process."
Compliance doesn't always equal safety
One thing all three panelists agreed on during the session was that just being compliant with FMCSA's rules and regulations isn't good enough when it comes to safety.
"We can do the minimum and be compliant," Edmondson said, "but if you don't go the extra distance to train drivers, communicate with them, empower them, hold them accountable when you need to, leverage technology – those are the things that make you safe."
Sant added that instead of focusing on being compliant, fleets should focus on the things that actually cause crashes. Four main areas he said are critical to safety are speed, space around the truck (especially following distance), distractions and fatigue. "Those things really are what define, to me, a safe driver. Someone who makes good decisions in those four areas all the time. You have to focus on things that, if you don't do well, can lead to crashes."
So, what's working?
One thing Edmondson said J&M has done is given its drivers the ability to "call an all-stop," where the driver stops a situation to call his or her driver manager and dispatcher to talk through the situation at hand.
"If a driver gets into a situation where he doesn't feel comfortable, someone is asking them to do something out of the norm, we have empowered the driver to call an all-stop," he said. "I'd rather get a call at 2 a.m. to talk through a situation than at 2:15 getting a call that something bad has happened."
When it comes to hiring drivers, Sant said the most important thing is hiring the right person who is conscientious to start with. Competency levels can be grown in different areas, he said, but if the driver isn't invested in doing things the right way, it won't translate to safety.
"Who you hire and put behind the wheel has to be more than just a process you go through," he said. "It has to be a real and meaningful vetting process – a very deliberate and critical vetting process to get the most conscientious and capable person you can."
Finally, Edmondson said the biggest thing you can do for a driver, regardless of fleet size, is show them you care about them.
"Once you establish that culture that you truly care about the driver and his safety and well-being, that's the number one thing you can do," he said. "One thing we've done, we let the driver know that we as corporate or at the terminal level, we're there to serve the driver…They're the face of your company, generating revenue, to ensure guys like myself that are overhead get a paycheck."
Using technology as a coach
In a prior panel yesterday, also part of FMCSA's virtual Truck Safety Summit, several carriers noted the success they have enjoyed using a forward-facing camera in driver coaching.
YRC Worldwide deployed Lytx drive cameras about five years ago and driver-managers offer feedback when they see an opportunity to coach, rather than having office staff point out a driver's mistakes.
"Drivers are more comfortable speaking to another driver," said Steve Fields, YRC Worldwide driver and America's Road Team Captain. "I'm doing exactly what they're doing. They seem a little bit more relaxed. It's not being called up on the carpet by your boss."
Cameras in the cab can be polarizing and Fields said there was some pushback initially from veteran drivers, but that has largely gone away as they have realizing the value of the feedback and, in some cases, irrefutable evidence.
"Drivers understand now that that camera has more of a chance at exonerating them than it does getting them in trouble," he said.