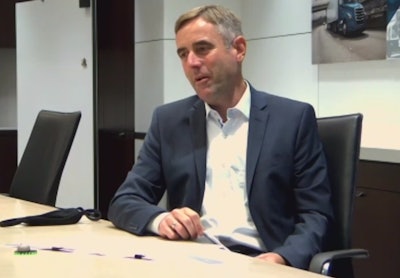 Rainer Müller-Finkeldei has been appointed senior vice president of engineering and technology at Daimler Trucks North America (DTNA), replacing Dr. Wilfried Achenbach who will retire after a 10-year tenure.
Müller-Finkeldei – a self-described "math and physics guy" – joins DTNA from Mercedes-Benz Trucks where he has served as director of mechatronics since 2010, and has been appointed to DTNA's operating committee as part the new move.
Having worked on artificial intelligence in powertrain controls since 1995, Müller-Finkeldei will oversee all DTNA product engineering activities, including design, testing, styling, analysis, compliance and planning functions, while also leading DTNA's continued push into truck electrification and autonomous driving.
"I was fascinated about it right from the beginning," he said of autonomous driving. "I see that evolving to a totally new level: One of the technologies that has the potential of changing the overall transportation industry globally. There is much work left to do, but [there is] a great vision, like to further reduce fatalities out on our streets."
A Müller-Finkeldei-led team helped pioneer the SAE Level 2 autonomous driving tech that is the architecture for the advanced driver assist systems deployed by Daimler's global brands, and also sparked the evolution of human-machine interface (HMI) systems in the instrument cluster as needle-and-dial based indicators transitioned to digital displays.
DTNA is focused, Müller-Finkeldei said, on next bringing an SAE Level 4 capable truck to market, having debuted the Level 2 capable Cascadia this year. The path to SAE Level 5, where human interaction isn't needed, is a longer term project, he said.
"I see that a pretty [long] way out there," he said, noting that Level 4 has a clearer path to viability in "classic hub-to-hub delivery" along routes where high-quality digital mapping is available.
From 2006 to 2010, Müller-Finkeldei – who holds a PhD and Masters in Computer Science and Physics from the Julius-Maximilians University of Wurzburg, Germany – served as the senior manager of Mechatronics' integration and validation team. Since joining Daimler he has held several roles across multiple business units and engineering functions, including Daimler Trucks product creation group, electronics development at Daimler vans and Daimler's research and technology department.
Müller-Finkeldei has also been part of Daimler's electric-drive development since its inception. Earlier this month, Freightliner's Innovation Fleet — a group of 30 battery-electric medium- and heavy-duty trucks — reached 300,000-plus miles of real-world use. Customers who have been using the EVs for the past two years are testing the integration of the technology into large-scale commercial transportation operations.
Müller-Finkeldei conceded that the cost of battery electric technology is "pretty high-priced" due to the limited production volume of components, but he predicted electric vehicles would make more economic sense within the next 10 years.
"If you look at today's situation, the cost of the technology is still too high to compete on an economic basis with conventional vehicles with diesel engines," he said.
As DTNA continues its global march toward electrification and self-driving tech, Müller-Finkeldei will be charged with balancing DTNA's investment in traditional business segments, like diesel and conventional powertrains, and emerging technologies. Müller-Finkeldei noted the company would continue to invest in conventional technologies and trucks that aid fuel economy gains.
Müller-Finkeldei and his family will relocate to Portland from their home in Stuttgart.