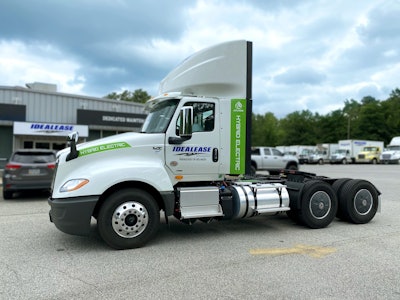 Trucking news and briefs for Thursday, Aug. 20, 2020:
Hyliion teams with Idealease to offer short-term hybrid-diesel powertrains for testing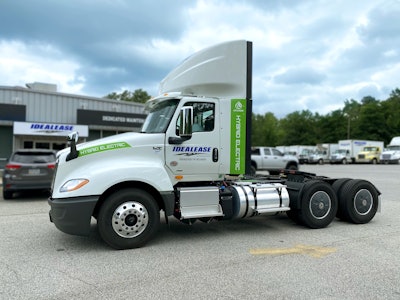 Electric powertrain provider Hyliion has partnered with Idealease to offer hybrid-diesel-powered Class 8 trucks available for short-term lease as a means to test the technology. As part of a national tour taking place through the end of the year, Idealease customers can operate an International LT Series chassis equipped with Hyliion's hybrid-diesel powertrain, which the company says reduces fuel consumption, cuts emissions and reduces operating costs.
The system being tested is a retro-fit powertrain that Hyliion says can be installed on "most major Class 8" vehicles.
The International LT Series test units available for leased are also equipped with the Dana S23-175 drive axle and the SPL driveline, as well as a Hyliion APU. Dana and Hyliion partnered earlier this year to develop electric powertrains for Class 8 trucks.
Former Volvo exec launches electric truck company
Patrick Collignon, former chief operating officer for Volvo Trucks North and South America, has launched Trova Commercial Vehicles, which will focus on the engineering, design and production of fully electric commercial vehicles.
TrovaCV will offer its industrial model and manufacturing capability to other truck OEMs while developing its own fully electric truck.
"This is an exciting time as the electric commercial vehicle market is being reshaped," said Collignon, TrovaCV founder and CEO. "While technology and innovation have made it possible to convert fuel-powered commercial vehicles into electric vehicles, we haven't seen a production model capable of producing the required volume of fully electric commercial vehicles to meet the demand."
The company is located in a business incubation center in Fairlawn, Virginia.
Before launching TrovaCV, Collignon served as senior vice president of operations for the Americas for Volvo Trucks, where he led a strategic initiative to develop and manufacture the new Mack medium duty truck platform.
Colorado's carrier set to haul Capitol Christmas Tree in Kenworth T680
Colorado-based Apex Transportation will use a Kenworth T680 to transport the 56th U.S. Capitol Christmas Tree from western Colorado to Washington, D.C., in early December.
The truck is equipped with a 76-inch sleeper and the Paccar Powertrain, featuring the 455-hp Paccar MX-13, Paccar 12-speed automated transmission and Paccar 40K tandem rear axles.
It also sports the Kenworth Diamond VIT interior, premium Kenworth GT703 seats, predictive cruise control, Kenworth Nav+HD system, a liftable lower bunk and a stowable upper bunk, and Kenworth TruckTech+ Remote Diagnostics.
The 70-truck carrier Apex will transport the tree from the Grand Mesa, Uncompahgre and Gunnison (GMUG) National Forests in western Colorado to its final destination on the on the West Lawn of the U.S. Capitol Building in Washington, D.C.
Apex Transportation was founded in 1996 and is a leader in Colorado flatbed trucking and specialty transportation services.
This year's theme for the haul is "Experiencing Your Nature." Choose Outdoors, a non-profit organization that works with the U.S. Forest Service on promoting outdoor recreation and public access to federal lands for recreation, assists with coordinating the annual tour. Coloradans are expected to contribute up to 10,000 handmade ornaments, capturing Colorado's colorful scenery and culturally rich and diverse populations.