Trucking news and briefs for Tuesday, Sept. 22, 2020:
FMCSA extends CDL, CLP, med cert waivers through year's end
The Federal Motor Carrier Safety Administration on Sept. 18 extended its waiver that allows truck drivers to operate with an expired commercial driver's license, commercial learner's permit or medical certification that expired on or after March 1, 2020. The extension is effective through Dec. 31.
The agency previously extended the waiver through Sept. 30.
States, CDL holders, CLP holders and interstate non-CDL commercial drivers are covered under the waiver with no further action, FMCSA says.
The agency notes that it has also issued a Notice of Enforcement Policy stating that, through Dec. 31, it will not take enforcement against drivers for operating a commercial vehicle if the driver had a valid CDL or CLP on Feb. 29, or against motor carriers for using such a driver.
Since the COVID-19 pandemic began, FMCSA says truck drivers have had difficulty scheduling DOT physicals and driver's license renewals due staffing shortages and other issues.
Landstar gives away new Cascadia
Landstar System (No. 9 on the CCJ Top 250) owner-operator Steve Wheeler, of Greenville, North Carolina, is now the owner of a 2020 Freightliner Cascadia 126 following the company's annual Deliver to Win Truck Giveaway last week.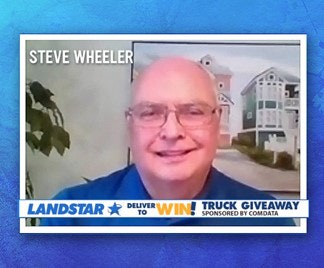 For the second time this year, Landstar gave eligible owner-operators a chance to win a new truck in a giveaway held virtually via Zoom. Wheeler was one of four finalists in the Deliver to Win Giveaway, in which all of the nearly 10,000 owner-operators leased to Landstar were automatically entered.
The winner was determined after each of the four finalists selected the box they believed would make them the winner. Wheeler guessed correctly to win the pearl blue Cascadia spec'd with a suite of safety systems, fuel efficiency features, a 455-hp Detroit DD15 and a Detroit DT12 automated transmission.
"I've never been lucky in my life and you have to be incredibly lucky when your name is picked out of 10,000," Wheeler said. "I am so excited; this is such a blessing. I am incredibly blessed to have won this truck."