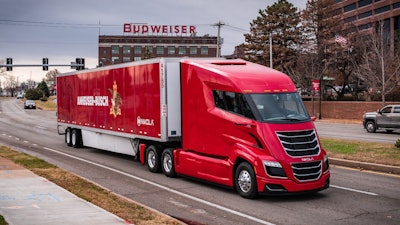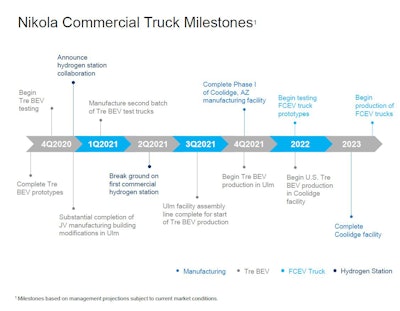 Nikola Corporation on Wednesday unveiled its strategy and vision to becoming a global leader in zero-emissions transportation; one that calls for the company to play the role of both "innovator and an integrator."
Nine days ago, company founder Trevor Milton stepped down as executive chairman of his Phoenix, Arizona-based hydrogen-electric upstart amid a firestorm of criticism sparked by a skeptical stock short-seller and subsequent inquiry from the Securities and Exchange Commission.
Among the charges laid out in the report were that some of the technologies and capabilities Milton and Nikola laid claim to either did not exist, were exaggerated or provided by other companies and manufacturers.
Nikola, via statement emailed this morning, said it sees itself as an Original Equipment Manufacturer with expertise in design, innovation, software and engineering. "We assemble, integrate and commission our vehicles in collaboration with support from business partners and suppliers that bring decades of experience in manufacturing, and that have invested billions of dollars in industrializing and scaling production," the company wrote. "Nikola designs and engineers its vehicles and works with business partners and suppliers to manufacture a majority of the vehicle components."
As an "innovator and an integrator," Nikola said its model combines the company's intellectual property and proprietary technology with that of strategic business partners and suppliers "to design and manufacture innovative energy and transportation solutions."
Nikola's list of strategic business partners and investors include the likes of General Motors, Bosch, and Iveco parent company CNH Industrial.
"We are laser-focused on pursuing the quickest, least capital-intensive path to market, in combination with our own intellectual property," the statement read. "If our partners have a less expensive, more efficient solution that works with and in our designs, we very intentionally want to go with that. This is in the best interest of our company and our shareholders – and, simply put, is the smart business decision."
The company will operate three business units: Truck, Energy and Powersports.
Truck Business Unit: Developing and commercializing BEV and FCEV Class 8 trucks that provide environmentally friendly, cost-effective solutions to the short-haul, medium-haul and long-haul trucking sectors.
Energy Business Unit: Developing and constructing a network of hydrogen fueling stations to meet hydrogen fuel demand for our FCEV and other customers, including potential charging solutions for BEV customers.
Powersports Business Unit: Developing electric vehicle solutions for outdoor recreational applications.
Nikola expects that the first batch of five prototypes of its Nikola Tre, a 100% battery-electric cabover truck, will be substantially completed at its Iveco joint venture facility in Ulm, Germany "in the next few weeks." The units will then be bench tested and road tested in Germany.
For the Tre model, Nikola said it engineered, in conjunction with its business partners and suppliers, the electrification elements of the truck with its engineers taking the lead on the "Human Machine Interface, infotainment, battery pack engineering and integration into the e-propulsion architecture, vehicle thermal management, and the e-axles," the company statement read.
The vehicle controls architecture were developed solely by Nikola. For the balance of the Tre BEV, Nikola leveraged validated and homologated Iveco components. "Bosch's rotor, stator and inverter products and related expertise, and FPT Industrial's industrialization expertise and experience, have enabled Nikola to move quickly on an aggressive path to bring its electric truck e-axles to market," Nikola said.
The company said it is on schedule to complete Phase 1 construction on its Coolidge, Arizona, manufacturing facility by the end of 2021, with construction intended to be fully complete by mid-2023. The facility – with total capacity to produce 35,000 semi-trucks annually, running two shifts, with approximately 1,800 new full-time positions – will initially produce battery-electric trucks before kicking off production of fuel-cell electrics.
"We remain confident in our ability to begin production of the Tre and make it available to customers starting in the fourth quarter of 2021," the company said.
Nikola expects to begin testing production-engineered prototypes of its hydrogen fuel-cell semi-trucks by the end of next year, with testing of the beta prototypes expected to begin in the first half of 2022.
Bosch, Nikola said, has been instrumental in helping to integrate heavy-duty fuel-cell power modules into Nikola trucks. "Nikola is defining and engineering the architecture of the truck, vehicle technical specifications, features and functions and styling theme," the company said.
Nikola's planned network of fueling stations are central to its business model and to advancing hydrogen fuel-cell based transportation, and the company said it is "actively partnering with industry leading companies including Nel Hydrogen on hydrogen producing technology and with organizations committed to developing common fueling standards, including standards for fueling heavy duty vehicles, and protocols to enable reliable, safe and open fueling networks for hydrogen fuel-cell based vehicles."
Nikola also continues to work on the establishment of hydrogen fueling stations in support of vehicles sold to customers and in building collaborations to develop a national hydrogen fueling network. Nikola announced an order for electrolyzers in excess of $30 million from Nel Hydrogen to support initial hydrogen fueling stations.
The company has one hydrogen fueling station at its headquarters capable of storing and dispensing up to 1,000 kg of hydrogen.
Nikola also announced Wednesday the postponement of its Nikola World event due to COVID audience size restrictions at venues in Arizona "until we can bring the Nikola community together safely." Any tickets related to Nikola World will be refunded or held, based on the customer's preference.