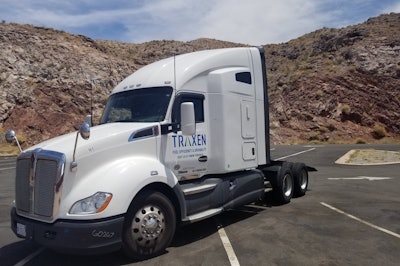 A number of companies that have developed autonomous vehicle (AV) technology are caught in a holding pattern waiting for regulations and societal acceptance to catch up.
Other companies with the same ambition in the AV space are coming out with market-ready products that can avoid such barriers. Driver assistance, adaptive cruise and electronic steering control are some of the latest products aiming to tackle autonomous driving in phases.
Traxen, founded in metro Detroit in 2018, has assembled a team of engineers who collectively have decades of practical experience developing vehicle artificial intelligence (AI) for technology suppliers and manufacturers in the automotive and trucking industry.
The company emerged Thursday from stealth mode, announcing its production-ready intelligent adaptive cruise control system – iQ-Cruise.
Traxen plans to make the product commercially available in the first quarter of 2021 for fleets with traditional and electric commercial vehicles. The availability of iQ-Cruise for OE truck manufacturers will follow shortly afterward.
A better way to cruise?
Traditional adaptive cruise control has limited payback for fleets due to driver complaints, false alarms and an awkward driving style, Traxen said via news announcement. By contrast, iQ-Cruise uses AI to adapt speed automatically by monitoring road conditions to detect changes in elevation, curvature, traffic patterns and weather miles beyond the driver's visual field.
Traxen uses AI in its edge computing platform to sense the environment using data from radar sensors and high definition map data to control vehicle speed automatically while a driver steers. In addition to radar sensors, the system has a domain controller and a driver display.
By continuously monitoring environmental data, iQ-Cruise learns how to drive different road segments better. "It gets smarter over time," Traxen founder and Chief Executive Ali Maleki said during a media conference call.
Additionally, the technology can take driver's hours of service and time-of-arrival needs into account. Using integration capabilities between iQ-Cruise and a fleet's ELD and back-office systems. iQ-Cruise's software runs on proprietary hardware in the truck, is connected to servers in the cloud, and knows how much time drivers have spent on the road and how many hours they have remaining.
The system can also know projected delays at shipping and receiving locations by using historical information provided by a fleet, as well as real-time information collected from trucks further ahead on the route.
During the media conference call, Traxen Chief Technology Officer Syed Ali explained that iQ-Cruise monitors three sets of distance horizons to control speed with a human-like driving style.
Over the immediate horizon, iQ-Cruise adjusts speed according to if a vehicle is merging versus passing or taking an onramp versus an offramp, among other considerations. For the medium horizon it uses detailed road information for grades, speed limit changes and weather conditions to plan vehicle speed up to three miles in advance.
For the long distance, he said it monitors overall traffic speeds on each road segment and can take into account a driver's remaining hours of service, their appointment time and wait times at the pickup or receiving location to slow down the vehicle, minimizing fuel consumption if the driver has slack time in the schedule.
A driver can override the speed control at any time, if needed. Since iQ-Cruise controls the speed of the vehicle, drivers remain engaged in steering and are informed by non-intrusive alerts from Traxen's driver interface, the company said.
The system only works on vehicles with an automated manual transmission (AMT). With this as a pre-qualification, Traxen said its addressable market is 1.8 million Class 8 vehicles that have been produced over the last seven years with an AMT. In the next 24 months, Traxen projects the market will grow by another 2 million vehicles as manufacturers continue to produce trucks with AMTs.
One-year payback on fuel savings
During the past two years, Traxen has road tested iQ-Cruise for more than 1.5 million miles using real-world fleet customer drive cycles and driver behaviors. The company also owns several trucks that it has deployed in customer fleets.
Traxen conducted a side-by-side cross-country trial in August 2020. The test started in Plymouth, Michigan, and went to Las Vegas and back. Data from the test showed that iQ-Cruise significantly outperformed seasoned truck drivers by executing far more energy-efficient speed controls, according to the news announcement.
The North American Council for Freight Efficiency (NACFE) independently reviewed the field trial data that used identical trucks and loads. During the test, NACFE verified the average fuel efficiency increase for iQ-Cruise was 7%, but observed improvements in the range of 2% to 20% in various segments over the 6,100-mile cross-country drive, said NACFE Executive Director Mike Roeth.
"We hope to see technologies like the iQ-Cruise deployed across the industry to improve freight efficiency and reduce greenhouse gas emissions," Roeth said in the news announcement from Traxen.
Traxen predicts that by 2023, based on system learnings from 700 million miles of data from customer drives, that iQ-Cruise will top 15% in fuel efficiency gains. Other possible savings come from reduced brake and tire wear, maintenance, insurance and training costs.
At launch in the first quarter of 2021, Traxen projects its updated product will deliver a 10% average reduction in fuel costs, which total 24% of fleet variable operating costs, according to the most recent study by the American Transportation Research Institute.
Traxen plans to sell iQ-Cruise for less than $5,000. With fuel savings potential of 10%, the company said most fleets will save $5,000 in fuel costs per vehicle within a year. Installation takes less than an hour and Maleki said it can be done by fleets, Traxen or third-party installers.
The hardware is designed to be scalable for additional functionality that Traxen is planning in 2023 to add vision and perception sensors. Its software running on devices can be upgraded over-the-air as new updates become available.