President Donald Trump has received more than $1 million so far in campaign contributions from trucking industry stakeholders for his 2020 re-election bid, according to publicly available campaign finance data from the Federal Election Commission and compiled by the Center for Responsive Politics (CRP).
Trump's $1.1 million haul from the trucking industry far and away bests trucking's donations to challenger Joe Biden, the former vice president heading the Democratic ticket. Biden has received $133,593 from trucking stakeholders, according to CRP's compilations.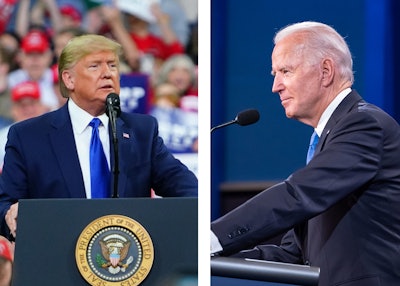 Trump's 2020 receipts from trucking also far outpaces trucking's donations to Trump in 2016, when he received $341,484. Industry donations to Biden are on par with those made to Democratic candidate Hillary Clinton in 2016. She received $137,733 that year. In 2012, Republican presidential candidate Mitt Romney received $1.2 million from trucking, while former President Barack Obama received just $91,000. Republican candidate John McCain received $412,000 in 2008, while Obama received $157,000.
In sum, trucking stakeholders have contributed more than $8.5 million to candidates in the 2020 election cycle so far. That's shy of 2016's $9.1 million and 2012's $11 million, though 2020's tally is obviously not yet final. This year's election will be held Tuesday, Nov. 3.
Trucking dollars have poured in to campaigns in recent months. As of Super Tuesday in early March, donations totaled $3.5 million, meaning $5 million in contributions have been made since.
The percentage split between Republicans and Democrats remains on par with recent election cycles. For the 2020 elections, trucking-backed donations favor Republicans 82% to 17% — or, $6.9 million for Republicans and $1.4 million to Democrats.
In 2018's mid-term cycle, trucking's dollars favored Republicans 84% to 16%, and in the 2016 election, industry contributions favored Republicans 81% to 19%. In 2012 and 2014, those percentages were 88% to 12% and 83% to 17%, respectively.
Political donations deemed from the trucking industry include contributions made by lobbying groups like the American Trucking Associations and the Owner-Operator Independent Drivers Association, as well as companies that operate within trucking, such as Paccar, Crete Carrier Corp., Prime, Knight-Swift,  Werner and others. All of the aforementioned companies and groups rank within the top 20 trucking contributors by dollar amount. CRP's totals also count contributions made by individual donors that donated more than $200.
ATA is by far the largest contributor this cycle, having donated nearly $650,000 so far, split at 60/40 favoring Republicans. Davison Transport, second on the list, has donated $363,000, all to Republican candidates. Centra Inc., has donated $335,000, with 96% going to Republicans. Paccar, maker of Peterbilt and Kenworth trucks, has donated $280,000, mostly to Republicans. Prime has donated $186,000; Knight-Swift $183,000; Schneider $173,000; Werner $163,000. All of those donations have heavily backed Republicans.
Aside from Trump and Biden, other top beneficiaries of trucking's political donations include Sen. Bernie Sanders, an independent from Vermont and a former presidential contender; Rep. Jeff Coleman, an incumbent who lost in the Republican primary in July to challenger Barry Moore; Sen. Mitch McConnell, the Kentucky Republican and Senate Majority Leader since 2014; Rep. Steve Scalise, a Louisiana Republican; Rep. Sam Graves, a Missouri Republican; Rep. Kevin McCarthy, the California Republican and House's Minority Leader; Sen. Joni Ernst, the Iowa Republican in a tight race; and Sen. Martha McSally, the Arizona Republican who lost a Senate bid in 2018 but was appointed by the state's governor to fill a vacant seat.
All of those candidates have received between $64,000 and $100,000, except for Bernie Sanders, who has received $179,713.