Trucking news and briefs for Wednesday, Nov. 4, 2020:
YRC Worldwide plans to go back under Yellow banner
YRC Worldwide (No. 5 on the CCJ Top 250) announced in its third-quarter earnings report that in 2021, it will move forward under the company's former name, Yellow. The company anticipates its LTL brands Holland, New Penn, Reddaway and YRC Freight, as well as HNRY Logistics will continue operating under their current names.
"Following an in-depth study, Yellow is the right brand and it's the right time to modernize our existing holding company brand in conjunction with our enterprise transformation," said Darren Hawkins, YRC CEO. "The YRC Worldwide Inc. name was selected over a decade ago when the strategy of the Company included pursuits outside of North America. Today we have one of the largest, most comprehensive LTL and logistics networks focused on serving North America and the Yellow brand, as the original LTL company, reflects a strong and proud history."
The company also announced its CFO, Jamie Pierson, has resigned, effective immediately. "This departure does not reflect any disagreements about the company's past financial reports or disclosures," YRC noted. Dan Olivier has been appointed as interim CFO.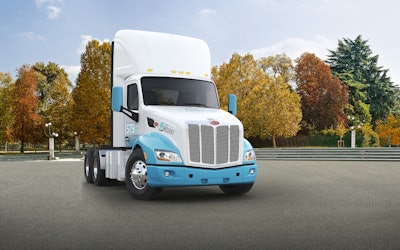 Electric Peterbilt 579 available to order
The new Peterbilt 579EV, which features an all-electric powertrain, is now available for customer orders, the company announced Tuesday. Production of the trucks is expected to start by the second quarter of 2021.
Customers can spec a 579EV using Peterbilt's SmartSpec sales tool at any Peterbilt location across North America.
The all-electric powertrain uses thermally-controlled Lithium Iron Phosphate battery packs to provide a range of up to 150 miles. When used with a recommended DC fast charger, the packs recharge in 3-4 hours.
The 579EV is available in a tandem drive configuration with Meritor 14Xe e-axle motors providing power through the drive inverters. Regenerative braking captures energy from stop-and-go operations to help recharge the batteries and maximize the truck's range.
In conjunction with the announcement of the 579EV being available for customer orders, Peterbilt also announced that the truck is eligible for the Hybrid and Zero-Emission Truck and Bus Voucher Incentive Project (HVIP) program by the California Air Resources Board. All 579EVs sold to customers in California are eligible for a $150,000 HVIP voucher. Vehicle purchasers and participating dealers must meet all applicable project requirements identified in the HVIP Implementation Manual to receive the voucher.