Trucking news and briefs for Thursday, Nov. 19, 2020: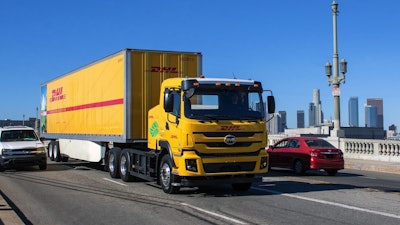 DHL piloting four battery-electric trucks in LA market
DHL (No. 41 on the CCJ Top 250) announced it is piloting four BYD Class 8 battery-electric trucks in the Los Angeles market, just in time for the holiday shipping season.
The electric trucks are manufactured by BYD Motors and built to be capable of running all day on a single charge, DHL says.
Equipped with an air-ride cab and air suspension, the trucks have more than enough power and torque to operate at 82,000 lbs. combined weight, the company says. DHL plans to use the new trucks in the Los Angeles market to haul goods to and from the DHL LAX Gateway and local service center facilities.
"The introduction of these efficient electric trucks is a huge step forward, not only toward achieving our own clean transport goals, but also California's ambitious goals on the adoption of zero-emission vehicles," said Greg Hewitt, CEO of DHL Express U.S. "By implementing these electric trucks, we will prevent more than 300 metric tons of greenhouse gas emissions from entering the atmosphere per year, as we continue to grow and enhance our clean pick-up and delivery solutions."
In addition, DHL Express has 72 all-electric battery-powered vans on order from multiple vendors, which will support DHL pickup and delivery operations throughout California and New York.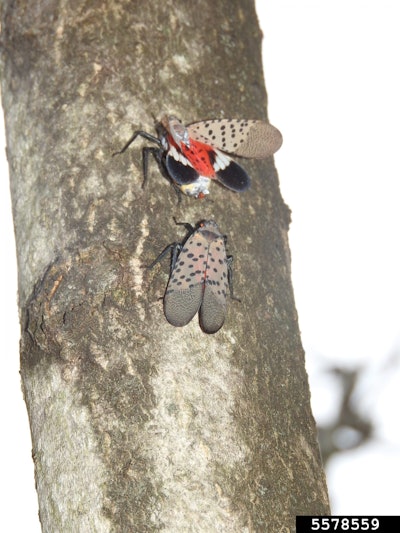 Michigan officials ask carriers to look out for invasive insect
The Michigan Department of Agriculture and Rural Development (MDARD) is asking trucking companies, truck drivers and warehouse workers to be on the lookout for the invasive spotted lanternfly after the U.S. Department of Agriculture confirmed dead spotted lanternfly insects were found in Michigan recently.
MDARD is asking people involved in transporting and handling goods or freight to become familiar with identifying spotted lanternfly adults and egg masses, as both could become attached to vehicles or goods themselves and unintentionally be brought into Michigan.
Spotted lanternfly adults are roughly one inch long. Their folded wings are gray to brown with black spots. Open wings reveal a yellow and black abdomen and bright red hind wings with black spots transitioning to black and white bands at the edge. Egg masses resemble old chewing gum, with a gray, waxy, putty-like coating.
Workers in Michigan who find a spotted lanternfly egg mass, nymph or adult are asked to take one or more photos, make note of the date, time and location of the sighting, and report to the Michigan Department of Agriculture and Rural Development at 800-292-3939.
The insects were first found in southeastern Pennsylvania in 2014, and infestations have since been confirmed in Delaware, Virginia, New Jersey, New York, Maryland, West Virginia, Connecticut and Ohio. The spotted lanternfly could damage more than 70 varieties of crops and plants, including grapes, apples, hops and hardwood trees.
Beginning in 2019, truckers picking up or delivering freight in certain Pennsylvania, New Jersey, Delaware and Virginia counties were required to obtain a Spotted Lanternfly Permit, which is given after completing a free online course.