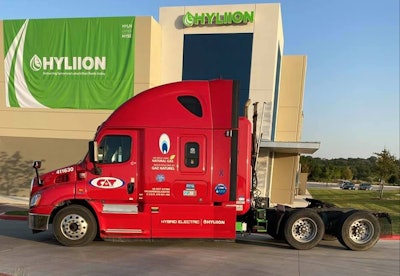 Power-hungry compressed natural gas Class 8 tractors appear to have gotten a nice leg up through electrification.
Canada-based C.A.T. Transport and Wegmans Food Store in New York report diesel-like performance from a bolt-on electric axle and power management analytics through the Hyliion Hybrid System.
C.A.T. placed five of its compressed natural gas (CNG)-fueled Freightliner Cascadias with Hyliion for hybrid conversion. Powered by a 280-plus amp battery pack, the electric axle adds 120 horsepower and up to 1,500 lb.-ft. torque to the Cummins ISX12, resulting in about a 30% increase in power.
Hyliion CEO and founder Thomas Healy said the e-axle, in combination with advanced software algorithms, helps new and used CNG trucks to "tackle difficult climbs, improve the experience for drivers on the road and ultimately help fleets get the most out of their CNG vehicles."
Though they're still early into testing, so far C.A.T. is a believer. Not long after having taken delivery of their first hybrid, C.A.T. Vice President Marc Blanchette said their driver has become "a huge proponent for the technology. He hasn't stopped talking about it. Very positive feedback in terms of power going uphill, regenerative braking helping with control going downhill and the miles per gallon."
Regarding fuel economy, Blanchette said the driver is "seeing an improvement in range and being able to stretch the tank of gas a little bit further," but more data will be needed to get better insight into actual mpg and other key performance indicators. The kit adds about 800 lbs. of extra weight, which Blanchette said hasn't been a problem.
One of the surprises has been driver engagement with Hyliion's in-cab display, which lets drivers know when the e-axle engages and awards points for gradual acceleration, gradual braking, coasting and idle reduction.
"Basically you earn points based off of regenerative braking and doing the right things for the technology and for the environment. You earn different points, so the higher the points total, the better," Blanchette said. "So they've turned it into a bit of a game inside the truck as well. It's not distracted driving. You just check it at the end of your run and see how many points you tabulated during the run. It's a nice little feature that the driver was checking at the end of his runs."
Healy explained that the in-cab display is designed to help win drivers over with powertrain electrification.
"Electric vehicles won't be adopted without strong engagement and buy-in from drivers," Healy said. "One of the ways we achieve this with our hybrid system is through the in-cab Hyliion display that uses real-time metrics to promote both safe and efficient driving as well as climate control functionality for driver comfort."
The tablet includes an electric APU interface for sleeper cabs, allowing drivers to ensure the battery pack is fully charged prior to stopping for a snooze.
With a truck count of 110 units, CNG makes up roughly 10% of C.A.T.'s fleet. If all goes well with the pilot, C.A.T. plans on outfitting their other trucks with Hyliion's hybrid system.
"If things are going well, the goal would be to equip the 100 or so trucks in the fleet," said Daniel Goyette, president of C.A.T. "It all depends on the results that the product will give."
Tandem CNG now a reality
With a distribution center and 103 stores and growing, Wegmans Food Store in New York is dedicated to lowering emissions as it steps up to meet growing demand.
Nineteen of its 175 trucks are powered by CNG and two of those are equipped with the Hyliion Hybrid System. Prior to the hybrids, tandem hauling was relegated to diesel trucks only.
"Until now, we could only use diesel trucks to pull tandem sets," said Matt Harris, Wegmans Fleet Maintenance Department Manager. "They're our most powerful engines with the lowest fuel economy (MPG), making them the highest diesel consumption trucks we have. With this one hybrid electric CNG truck, we've flipped that on its head and taken the dirtiest job on the highway and made it the cleanest part of what we do."
Harris is especially pleased with the company's new Volvo VNL hybrid, the first of its kind fitted with Hyliion's system. Volvo worked alongside Hyliion to engineer the match-up. The truck's CNG system, built by Agility and powered by a Cummins near-zero ISX12N engine, offers a 30% uptick in fuel capacity over their older CNG tractors which gives them range comparable to diesel trucks.
Harris is not only pleased with the added power from the Hyliion Hybrid System, he's happy about "seeing a 65% savings on fuel costs per truck when using natural gas, and we expect to keep the trucks in service longer — seven to 10 years, compared to five years for a diesel."
Wegmans plans on adding more CNG trucks to its fleet in 2021.