Trucking news and briefs for Wednesday, Dec. 9, 2020:
Large fleets announce driver pay hikes
Two of the nation's largest fleets announced recently they will increase driver pay going into the new year.
Covenant (CCJ Top 250, No. 38) announced recently the largest driver pay increase in the company's history, which will take effect Jan. 4. The company will raise the base linehaul team driver pay rate by an average of 9 cents per mile across all driver types. The largest increases will be reserved for drivers with more than one year of experience, as a driver with one year of experience plus a hazmat endorsement will now start at a weekly non-per diem rate of 66 cents per mile, up from a previous starting rate of 50 cents per mile.
"We've been eager for some time now to announce a significant pay raise like this one," said David Parker, CEO of Covenant, noting that the company last increased driver base pay five years ago. "Today's announcement is long overdue for our drivers."
TransAm Trucking (No. 90) recently announced a pay increase for their long-haul company drivers and independent contractors. Those who have been employed or contracted with TransAm for at least six months received up to a 5 cents per mile increase. Drivers who have not been employed or contracted for at least six months will receive an increase after six months of continuous service.
Along with a pay and rate increase, TransAm Trucking has doubled its sign-on bonus to $5,000 for all driving positions. The bonus pays out in four installments of $1,250 after the completion of 30, 60, 90 and 120 days. Once a driver receives their last installment of their sign-on bonus, TransAm offers a monthly driver retention bonus of $200 for company drivers and $250 for independent contractors.
"We want to show our gratitude to our noble drivers and accelerate our scheduled pay and rate increases for new drivers with TransAm." said Pamela Caraway, Director of Recruiting at TransAm Trucking. "Our drivers have proven that they are essential to our country, and we are proud to work alongside some of the strongest individuals in the industry."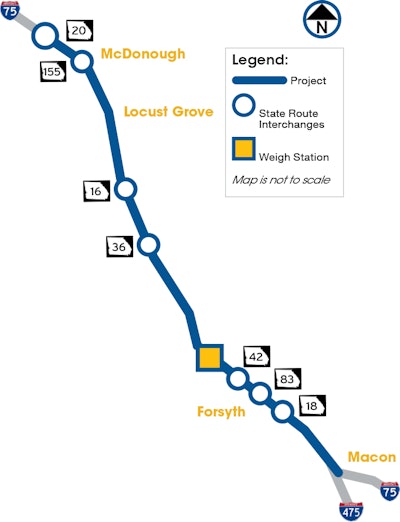 Georgia seeks feedback on proposed I-75 commercial lanes
The Georgia Department of Transportation is looking for public feedback on its I-75 Commercial Vehicle Lanes project, which would add two barrier-separated commercial vehicle-only lanes northbound along I-75 from the I-475 interchange near Macon to the McDonough area.
GDOT says the new lanes will be non-tolled and will span approximately 41 miles.
The agency is hosting a virtual Public Information Open House, which offers updated information on the project. GDOT asks that after reviewing the information, comments be submitted by Tuesday, Dec. 15.