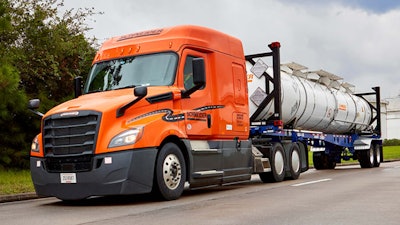 Trucking news and briefs for Thursday, Dec. 10, 2020:
Schneider expands bulk intermodal service into Canada
Schneider (CCJ Top 250, No. 7) is expanding its Bulk Express Intermodal service into Canada after eight years of providing the service in the U.S.
Starting last week, shippers with inbound and outbound Canadian freight were able to begin using Schneider to deliver truck-like service. The company's Bulk Intermodal service ships bulk loads by rail, with local and regional drivers handling the final dray.
The containers, which can haul up to 45,600 pounds of specialty chemical and liquid materials, will travel on the Canadian National Railway to and from Toronto. Inbound freight will be hauled to its final destination by Canada-based drivers.
"Since we began service into Mexico several years ago, cross-border shippers have seen how much value Bulk Express Intermodal delivers," said Jason Howe, senior vice president and general manager of Schneider's bulk division. "We're excited for shippers moving freight into and out of Canada to experience similar cost savings and fast, safe transit."
Paccar Parts celebrates 10th anniversary of MX engine
Paccar Parts is celebrating 10 years of providing support to customers with Paccar MX engines. The MX engine line launched in 2010 in North America with the launch of the Paccar Engine Plant in Columbus, Mississippi.
Since then, 220,000 engines have been built at the plant, and Paccar Parts provides remanufactured and original Paccar Genuine engine parts.
"Providing outstanding parts availability is critical to support customers," said David Danforth, PACCAR Parts general manager and PACCAR vice president. "Our global network of 18 parts distribution centers (PDCs) are stocked with more than 4,000 engine part numbers to ensure Kenworth and Peterbilt dealerships and TRP stores have the parts customers need, when they need them."