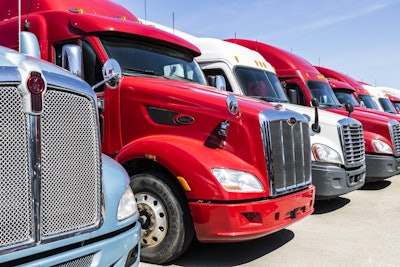 Despite being battered at the early onset of the COVID-19 pandemic, used truck pricing rebounded mid-year and has recovered to healthy levels as 2020 nears a close.
J.D. Power Valuation Services reported that the Class 8 pricing was generally stable in October while volume pulled back. The auction channel saw fewer auctions in the calendar year but the volume of basic-spec trucks selling in the retail channel continues to creep up.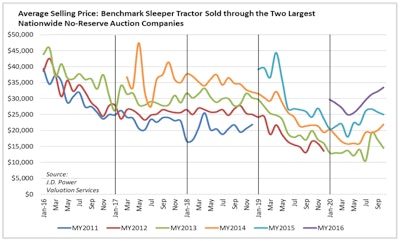 Used Class 8 same dealer sales volumes were up 20% year-to-date against the first 10 months of 2019, according to ACT Research, with average price, miles and age all below October 2019 year-to-date rates.
As long as the Federal Reserve keeps rates near zero and development of a COVID-19 vaccine continues to progress, J.D. Power Valuation Services Commercial Truck Senior Analyst Chris Visser said its likely to be "business as usual," barring another economy-jarring event.
Near-record spot freight rates have attracted a higher-than-expected number of buyers to the used truck market, according to ACT Research Vice President Steve Tam, "yielding higher sales and selling prices."
Calling the pandemic "a massive black swan event," Visser noted fleets waited to see what would happen to freight volumes once consumer stockpiling shook out before acquiring trucks, "and they seem to be okay with what they are seeing."
Used truck prices crashed in February with deprecation averaging more than 8% in the first quarter, compared to just more than 1% under normal economic conditions. That has rebounded into a more respectable and historically-typical range of about 2.4%.
Used truck prices are on the rise and Aufdemberg noted inventories are decreasing and even as supply increases, adding she expects prices to continue to rise into 2021. Pricing on used trucks has been fairly stable since June (model year 2014 and 2016 tractors through September are commanding their highest prices this year), and new truck orders have reached historically significant metrics each of the last three months.
"COVID really spurred [truck] demand," said President and General Manager at Daimler Trucks Remarketing, Mary Aufdemberg. "The fire was really lit on the used truck side before it was on the new truck side."
Corporate owned SelecTrucks location, Aufdemberg said, have doubled sales this year, and DTNA added four new locations in 2020. Used truck inventories are decreasing and she expects pricing to continue to remain stable, but below 2018 and 2019 levels.
Aufdemberg said fleets in growth mode can pose a challenge for the flow of used trucks, because not as many trucks become available on the market, but she expects the upcoming proliferation of 2018 model year trucks – specifically those equipped with driver safety systems and automated transmissions – to drive used truck demand into 2021.
"Safety systems are not in the majority [in the used truck market]," she said. "We see each year, better and better availability."
Aufdemberg forecasts 2021 to be "a good year from a demand perspective," especially in the first half of the year, "[and] I think we see more supply in 2021 than in 2018."