Trucking news and briefs for Friday, Dec. 11, 2020: 
FMCSA hosting Q&A for new hours of service rules
The Federal Motor Carrier Safety Administration is hosting a question and answer session next week to answer public questions about the hours of service changes that took effect Sept. 30.
The session will be held Thursday, Dec. 17, from 2-3 p.m. Eastern. Space is limited for the free webinar, and registration is required.
Those with lingering questions about the recent HOS changes can register for the webinar here.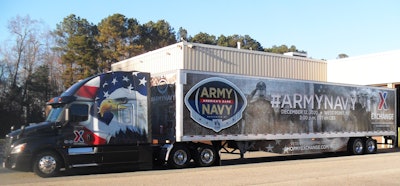 Trailer wrap commemorates Army-Navy Game
The Army & Air Force Exchange Service is celebrating the annual Army-Navy football game with a special truck design celebrating the rivalry's 121-year history.
The truck wrap will be unveiled at the game on Dec. 12, and features black-and-white images of Cadets and Midshipmen. The Exchange, the Department of Defense's largest retailer, has been a participating partner in the Army-Navy Game presented by USAA since 2018.
The truck will be at the Army-Navy Game and serve as a 53-foot billboard for the Exchange's support of the game and the Services. After the game, the truck will hit the road, delivering merchandise from the Exchange's Dan Daniel Distribution Center in Newport News, Virginia, to Exchange stores throughout the eastern United States.