Trucking news and briefs for Tuesday, Dec. 15, 2020: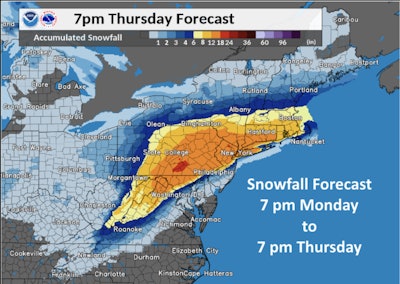 Winter storm expected to impact travel in Mid-Atlantic, southern New England states
Much of the Northeast expects a major winter storm later this week to deliver as much as two feet of snow in some locations, freezing rain in others and blizzard-like conditions in parts of New York, New Jersey and southern New England.
The storm is expected to cover from Southern Illinois, to the Middle Atlantic states, the Northeast and into eastern Canada. It's still forming and is expected to unfold from Tuesday, Dec. 15, through Thursday, Dec. 17, and affect travel on major thoroughfares, including I-95.
According to the National Weather Service Eastern Region, heavy snow is expected from eastern West Virginia across western Maryland, Pennsylvania, northwest New Jersey, eastern New York and southern New England.
"The combination of heavy snow and gusty winds can create near-blizzard conditions just inland of the coast where all or mostly all of the snow falls from the storm," AccuWeather said in a report Monday. "Northern New Jersey and the lower Hudson Valley of New York state through southern New England is the most likely zone to experience near-blizzard and whiteout conditions. In this area, winds can frequently gust between 40 and 50 mph, dropping the visibility to near-zero at times at the height of the storm Wednesday night into Thursday morning."
As much as a foot of snow could be seen in some larger cities, including Boston; Providence, Rhode Island; Hartford, Connecticut; Scranton, Allentown, Harrisburg and State College, Pennsylvania; Patterson, New Jersey; and Hagerstown, Maryland.
Several inches of snow are expected in New York City, Philadelphia, Baltimore and Washington, D.C. Snow is expected to end by Friday morning.
According to Accuweather, ice is forecast to cover parts of western North Carolina, upstate South Carolina, southwestern and central Virginia and part of central Maryland from last Tuesday night to Wednesday.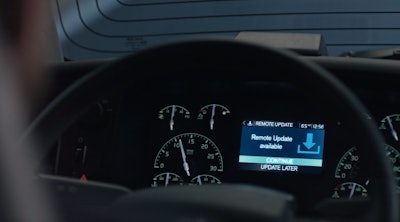 Volvo adds driver-activated OTA updates
Volvo Trucks' Driver Display Activation (DDA) app, a new enhancement to Remote Programming, is now standard on all Volvo trucks, the company announced this week.
DDA allows drivers to directly activate over-the-air system updates within minutes at the next convenient time and location – whether that is at their next rest stop or back at the shop.
Volvo Trucks' Remote Programming service provides fleet operators with a faster and more flexible way to make updates to software and parameters that enhance the performance of a truck's engine, transmission and aftertreatment.
DDA moves the activation step into the cab and the hands of the driver, adding another option over having to call a Volvo Action Service agent to initiate an update.
All new Volvo trucks built after Nov. 30, 2020, will have the DDA interface available free of charge for the first two years, bundled with Volvo Trucks' Remote Diagnostics services.
Trucks model-year 2018 and older can also benefit from Driver Display Activation by applying a simple conversion kit available in the diagnostic application, Volvo Premium Tech Tool, which enables the new technology to be implemented in less than one hour.
J.B. Hunt updates Shipper 360 platform with temperature-controlled services
J.B. Hunt (CCJ Top 250, No. 3) has added temperature-controlled transportation services to its Shipper 360 platform.
More than 10,000 carriers using J.B. Hunt 360 will offer temperature-controlled delivery services. Shippers will be able to select from a variety of temperature ranges when using Shipper 360 to create a shipment, which can be booked in the platform.
J.B. Hunt says the latest version of Shipper 360 provides customers of all sizes with flexible shipping windows, mode recommendations, real-time rates based on carrier demand, and access to a pool of more than 777,000 trucks.