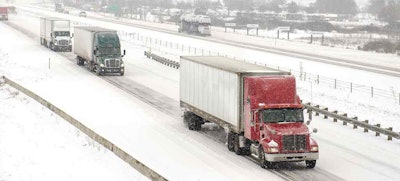 Trucking news and briefs for Wednesday, Dec. 16, 2020:
Pennsylvania restricting commercial traffic during winter storm
In preparation for a major winter storm expected in the Northeast through Friday, the Pennsylvania Department of Transportation and the Pennsylvania Turnpike Commission will restrict commercial traffic on a number of interstates in the state starting Wednesday afternoon.
The restrictions on commercial vehicles include: no tractors without trailers, tractors towing unloaded or lightly loaded enclosed trailers, open trailers or tank trailers, tractors towing unloaded or lightly loaded tandem trailers, enclosed cargo delivery trucks that meet the definition of a CMV. The restrictions begin at 1 p.m. Eastern Wednesday.
The commercial vehicle bans will be in effect on I-78, I-80 (I-99 to New Jersey), I-81, I-83, I-84, I-95, I-283, I-295, I-380, I-676, PA-33, I-76 (Breezewood to New Jersey including the Pennsylvania Turnpike), I-476 (I-95 to Clark Summit including the Pennsylvania Turnpike).
Daimler, Volvo, others partner for hydrogen truck development in Europe
Daimler Truck AG, IVECO, OMV, Shell and the Volvo Group announced Tuesday their commitment to work together to help facilitate the mass market rollout of hydrogen trucks in Europe.
The H2Accelerate participants believe that synchronized investments across the sector during the 2020s will create the conditions for the mass market rollout of hydrogen-fueled heavy-duty trucks, which is required to meet the European goal of net-zero emissions by 2050.
More driver pay increases announced
Two large fleets announced driver pay increases, adding to the growing list of carriers boosting pay for their drivers.
C.R. England (CCJ Top 250, No. 26) announced an increase that will affect most of its over-the-road drivers, which it calls "the largest pay increase in C.R. England's 100-year history."
The increase went into effect Dec. 1 and is estimated to provide an average of 15.5% to the base pay of OTR solo drivers.
Additionally, drivers are also participating in a new bonus program that launched on Nov. 1, which provides incentives for safe driving and superior service performance. Earning top payout on the Safe & On-Time, Every Time Bonus, combined with the base pay increase, is estimated to provide up to a 25% total pay increase for eligible drivers.
Maverick Transportation (No. 79) also announced a pay increase for its flatbed, glass and dedicated divisions. Beginning Jan. 3, Maverick is introducing a new 2 cents-per-mile and 4 cpm increase for the flatbed and glass divisions, respectively. The company is also increasing their tarp pay, short mile pay and guarantee pay for OTR drivers.
The company says student drivers will now earn 51 to 54 cpm, and experienced drivers will earn 56 to 64 cpm, depending upon division and experience.