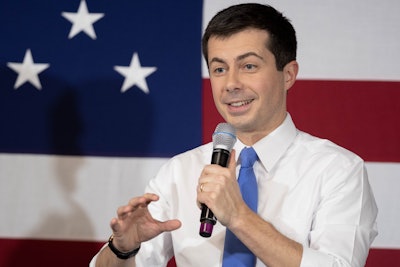 Former presidential hopeful and South Bend, Indiana, mayor Pete Buttigieg has been tapped to head up the Department of Transportation under the Joe Biden administration, President-elect Joe Biden confirmed Tuesday night. The post would be the 38-year-old Buttigieg's first federal position should he be confirmed by the Senate to replace Elaine Chao, who assumed office Jan. 31, 2017.
Buttigieg ran against President-elect Biden in the Democratic primary and won the first caucus in Iowa before dropping out of the race and endorsing Biden.
Mayor @PeteButtigieg is a leader, patriot, and problem-solver. He speaks to the best of who we are as a nation.

I am nominating him for Secretary of Transportation because he's equipped to take on the challenges at the intersection of jobs, infrastructure, equity, and climate.

— Joe Biden (@JoeBiden) December 16, 2020
"Innovation in transportation helped build my hometown, and it propels our country," Buttigieg tweeted Tuesday night in response to his formal nomination. "Now is the time to build back better through modern and sustainable infrastructure that creates millions of good-paying union jobs, revitalizes communities, and empowers all Americans to thrive."
Buttigieg's presidential campaign platform included a proposed $1 trillion infrastructure plan funded by tax reforms and the repeal of tax cuts implemented by the Trump Administration, Politico reported at the time.
Part of his proposed plan at the time was to require DOT to propose a vehicle miles tax (VMT) to replace the gas tax to help fund the Highway Trust Fund. His plan also included provisions for road safety to work toward reducing traffic fatalities, Politico reported.
American Trucking Associations President and CEO Chris Spear congratulated Buttigieg on his nomination.
"Transportation is an issue that touches all Americans – urban, rural, coastal and in the heartland of our nation," Spear said. "Having served as a mayor, Pete Buttigieg has had an up close and personal look at how our infrastructure problems are impacting Americans, and how important it is to solve them. On behalf of the trucking and freight transportation industry, I'd like to congratulate Pete Buttigieg on his nomination to lead the Department of Transportation. We look forward to rolling up our sleeves and working with him to begin the important work of rebuilding our nation's infrastructure."
The American Association of State Highway and Transportation Officials (AASHTO) also congratulated Buttigieg on his nomination, adding the agency looks forward to working with him and the Biden administration "to deliver an integrated, efficient and innovative national transportation system."
"As the former Mayor of South Bend, Indiana, Buttigieg understands the vital role that transportation plays in people's lives," said Jim Tymon, AASHTO's executive director. "AASHTO's membership –the hardworking public servants at every state department of transportation in the country – are appreciative of the Secretary-designee's call for robust investment in our multimodal transportation system and his commitment to improving transportation safety."