Advanced driver assist systems (ADAS) have been widely adopted by motor carriers for collision mitigation, automatic cruise control, lane keeping and driver fatigue monitoring, among other functions. Some fleets are now taking the next step forward and testing fully
autonomous vehicle technology
.
[Related: J.B. Hunt partnering with Waymo on self-driving deliveries in Texas]
The shifting of primary responsibility for vehicle operations from a human to a machine – often referred to as SAE Level 4 and Level 5 autonomy – raises unsettled questions for the court system and the insurance industry. Who — or what — will be liable if something goes wrong?
In crash claims, the legal system has traditionally used tort law or negligence, explains J.W. Taylor, owner of Taylor and Associates, a West Haven, Fla.-based law firm specializing in transportation. Up to this point, any claims and associated damages regarding auto crashes have been tied to a breach of the duty of safe vehicle operations that a "reasonable person" would typically observe.
Emerging ADAS and autonomous vehicle technology muddy that tort system in ways that will have far-reaching impacts on the future of automobiles and commercial transportation.
Tort law, as it relates to motor vehicle accidents, has remained largely unchanged since the first automobile accident in 1869 when scientist Mary Ward fell from, and was fatally thrown under, a steam-powered auto. In 1896, Bridget Driscoll was the first pedestrian killed by an automobile. She stepped off a curb in London into the path of an auto driven by Arthur Edsall, who was arrested and charged with an accidental death.
Driscoll's coroner was quoted as saying he hoped that "such a thing would never happen again."
Fast forward to March 18, 2018. Elaine Herzberg was pushing a bicycle across a four-lane road in Tempe, Arizona, and was fatally struck by a semi-autonomous Uber vehicle that was equipped with a human driver as a backup for the autonomous driving system. This arrangement, wherein a semi-autonomous vehicle is operated with a human driver who may override the vehicle's controls, is referred to as SAE Level 3 autonomy.
Uber settled this accidental death suit prior to trial and suspended its autonomous driving program indefinitely. There have been no reported accidents among vehicles that meet the SAE Level 4 or Level 5 standard to-date, but that day could come soon.
"We don't have case law or a lot of information pointing to how this is going to be handled in the courts," Taylor said, since a human driver has always been named as the negligent party. In a circumstance with no human driver to blame, the manufacturer or software provider could be found to be liable. "How do we sort all that out?" Taylor asked.
An SAE Edge report, co-authored by Taylor and Dr. Rahul Razdan, a leading researcher on autonomous vehicles at Florida Polytechnic University, examined the impact of autonomous vehicles and artificial intelligence on the insurance industry and legal system.
In the report, Taylor compares autonomous vehicles to equine law.
"The concept is that a horse has intelligence, and it has horsepower, much like a vehicle. But what happens when you are relying on the intelligence of that horse and that horse spooks or reacts in way you did not anticipate?" he asked.
Just as there is a reasonable expectation for horse behavior, there is a reasonable expectation for how an autonomous vehicle should behave. Proving negligence in horse law depends on the jurisdiction and facts surrounding those cases, Taylor said. "The same type of scenario has to be prepared for with autonomous vehicles."
Insurance impact
The main regulatory agency for laws that would accelerate or impede the rollout of full AVs is the National Highway Traffic Safety Administration. Yet if an accident were to occur with a Level 4 or Level 5 vehicle, the courts, and not regulatory bodies, would most likely assign liability, noted Razdan last fall during a virtual conference held by the Motor Carrier Insurance Education Foundation (MCIEF).
"Even with this emerging technology, by default, we are leaving it to the court system to set standardization of this technology," Taylor said at the conference. "I wish that we had someone else leading this charge."
Insurance companies will have to figure out the liability question in order to underwrite policies for self-driving trucks. To do this, insurers will either have to get into the technology assessment business, which is not something they have typically done, or get other parties to help them do it, Razdan said.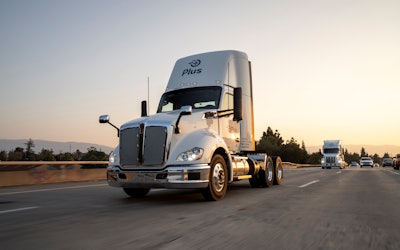 To avoid the issue of human liability, insurance companies might have to offer single-policies that do away with separate coverage such as general auto, cargo liability, property damage and products liability. Offering a "wrap-around" policy is a real possibility, Taylor said, where you would purchase insurance with a vehicle that covers everything.
"The industry is working on it, because it recognizes there is going to be a different way to look at who's at fault — the driver, OEM or software," he said.
Convergence of technology
With so many unsettled questions, how will Level 4 and Level 5 autonomy begin to emerge?
As an expert in emerging AV technology, Razdan believes that AVs will first be deployed by fleets on a limited basis on highways where the vehicles may avoid the presence of pedestrians and where traffic flows in a fairly standard and predictable pattern.
Razdan is bullish on the idea of convoying where a lead truck has a human driver, and the trailing vehicle is fully autonomous. Such a model is being used by Locomation and "has enormous consequences" for fleet efficiencies, he said.
[Related: Technology startups benefitting from early successes, failures in trucking]
A driver in the trailing vehicle could be sleeping while the lead driver is working, and the drivers could swap shifts to maximize drive time.
Locomation has a three-year deal with Wilson Logistics to pilot test its autonomous technology on the road across several critical Wilson Logistics shipping routes. As part of the test, drivers in the trailing vehicle can go off duty. In June, PGT Trucking Inc. inked a deal with Locomation to test its platooning technology. During the eight-year agreement, PGT Trucking (CCJ Top 250, No. 103) will deploy 1,000 Autonomous Relay Convoy (ARC) systems, which enables one driver to pilot a lead truck equipped with technology augmentation while a follower truck operates in tandem through Locomation's fully autonomous system, allowing the follower driver to log off and rest while the truck is in motion.
Once the dust settles on liability and insurance questions, a future possibility is to leverage a connected system, most likely blockchain, to orchestrate movements of vehicles in order to prevent accidents, and to improve traffic flow and business efficiency.
Taylor describes this scenario as a "robot derby." Such a system is being developed called Noblis Pieces of Eight, he said. In this system, when a group of autonomous vehicles come to an intersection, they will have communicated with each other beforehand to determine who has the right-of-way based on economic and other factors.
Through a blockchain, a tractor-trailer could have pre-paid for fast access on a route for a time-critical pickup or delivery. Other motorists who yield take a share of the payment using a digital currency like Bitcoin.
"Maybe our streets and intersections will look nothing like today," remarked Taylor.
Razdan sees a similar possibility of economically connected transportation models that will make it possible for everyone "to get what we want," he said.