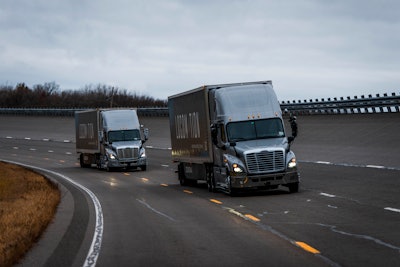 Editor's note: This is the second and final installment of a two-part series on Big Tech investments in the trucking and logistics industry. Part one covered the migration of tech talent.
Technology startups and venture capital (VC) firms have been making big bets in the trillion-dollar trucking and logistics (T&L) industry.
In May 2020, management consulting company McKinsey tracked a total flow of $28 billion in funding to T&L technology startups from 2015 to 2019. Despite a global pandemic, funding soared in 2020 to $1.7B across 683 deals, according to market research firm CB Insights.
All startups have to make critical early decisions, the most important of which are what core technologies to build or not build; what to sell; and the go-to-market strategy, said Dr. Çetin Meriçli, chief executive and co-founder of Locomation.
Wagers are especially high in autonomous vehicle (AV) technology, despite early attempts that failed, such as when Uber Freight cancelled its autonomous truck program in the summer of 2018.
Meriçli believes the floodgates are open for investments and technologies coming from outside and from within the industry during 2021 and beyond. "Over the next couple of years, I believe it will be transformational," he said.
Keeping the driver, for now
The founders of Pittsburgh-based Locomation are vehicle autonomy experts from Carnegie Mellon's National Robotics Engineering Center. One of the company's first decisions was to not be a transportation execution company patterned after Uber Freight.
"We never aspired to be a fleet or trucking company, not just because of the capital-intense aspects, but because we don't know how to run a fleet," said Meriçli.
Locomation, founded in 2018, is instead developing autonomous technology that will help trucking companies "be the best version of themselves," he said, to operate safer, more efficiently and improve driver retention.
The company is developing a trucking technology platform for human-guided autonomous convoying.
Being a startup in the AV space requires having a team of engineers, but Locomation's founders also recruited trucking and freight experts who understand the "dynamics, characteristics, tidbits and nuances" of the industry, he said. "That was more important for us, and a key strategy advantage."
Locomation is developing a full stack of autonomous vehicle technology with a plan to deploy it using human-guided convoys. This go-to-market strategy will make money while the company is collecting more data to advance towards full autonomy, he said.
By analyzing freight flows across the nation, Locomation is presently identifying lanes, regions and interstates for its targeted deployment in the second half of 2022. The timeline of full autonomy for all 50 states, however, will likely be "measured in decades," he said, "but we will get there."
Locomation has about 30 employees. Some have previously worked for Uber, Waymo, Google, and other Big Tech companies where they learned a lot of "know-how and know not to" at someone else's expense, he said.
Early failures in the AV space have changed the go-to-market strategies of startups to offer fleets technology they can use today.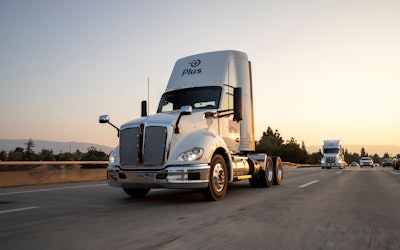 Plus, a provider of self-driving truck technology founded in 2016, recently completed an additional $200 million round of funding. The company is partnering with truck manufacturers and large private fleets to deploy its automated driving system on new trucks or added to existing trucks.
With Plus technology, the driver stays in the vehicle to supervise the automated driving system, which can automatically handle stop and go traffic.
"Drivers who have used our product tell us that our automated driving system helps them feel safer, more comfortable, while also reducing fuel costs by around 20% and lowering carbon emissions," said Shawn Kerrigan, COO and co-founder.
Plus is planning to start mass production and delivery of its automated driving system to customers this year. It has more than 10,000 pre-ordered units.
Targeting complexity
Given the complexity of the T&L space, many startups have found early success by developing technology to simplify complex work and create efficiencies of scale. Drayage, in particular, is "very complex by nature," said Christopher Lankford, senior vice president of software engineering at NEXT Trucking. 
NEXT Trucking is a technology company that connects shippers and carriers with a specialty in drayage from the ports of Long Beach and Los Angeles.
The company frontloads complexity in its product design, he said, and "as we build our solutions, we're actively taking that complexity and distilling it down to simpler, more manageable chunks."
"With that approach," he continues, "we can create user experiences, tools, or products that strip that complexity away. That way, our users are free to focus on the job they need to perform, instead of battling the latent complexities of the industry, as is common in drayage."
A number of startups have sought to simplify the complexity of freight matching, but the challenge some have failed to solve is to develop reliable freight volumes and capacity. Some startups are now focusing on technology that helps truckers scale their businesses.
SmartHop was founded in 2018 by Guillermo Garcia who experienced firsthand the challenges of operating a small company and navigating the freight market. He started a small trucking company in the United States after building a trucking company in Venezuela that grew to 500 employees.
He started his new trucking company in south Florida, which in hindsight was not the best location. "I had nobody there to tell me that was a horrible idea," he said. "I had to learn from the get-go on things like that."
Being a small company in a massive industry "helped me understand the struggles that tens of thousands of trucking companies go through out there," he said.
He knew that to compete with the big players his and other small companies needed economies of scale and technology to make better decisions, noting that small fleets are "being controlled by freight brokers."
"You don't have volume for a freight broker to do anything but to have a transactional relationship with you," he said.
SmartHop has developed an AI-powered platform that helps owner-operators and small fleets optimize load booking. The platform has access to freight broker networks that include Redwood, C.H. Robinson, Convoy and Uber Freight. Trucking companies that use SmartHop can also bring in their existing shipper and broker connections.
The cloud-based software platform has components of a transportation management software (TMS) system with added functionality of automated dispatching. The platform uses algorithms that find the best-possible loads by considering deadhead, fluctuations in the spot and contract market, and many other factors.
The platform understands what drivers intend to do by learning from past decisions on loads they select, and analyzes the freight market in real time to find the best load opportunities, he said. SmartHop also has fuel discounts and factoring products.
Pricing for SmartHop is three percent of the revenue for each load booked, and one percent for each additional product, which includes cargo insurance, factoring and fuel discounts of 8%.
The company recently closed another round of funding, bringing its total since 2018 to $16.5 million.
Lessons learned from early success and failures of technology startups in the T&L sector will continue to fuel new innovations and investments in an industry that has traditionally been slow to change.