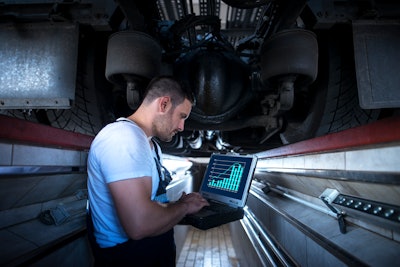 Demand for transportation in the U.S. accounts for a significant portion of the U.S. economy – between $1.3 trillion and $1.8 trillion, or 9.4% of the GDP.
According to the transportation services index, and despite the COVID-19 epidemic, freight service was not nearly as impacted as the passenger segment and has quickly recovered.
While freight service has bounced back, COVID-19 brought to light the need for trucking companies to rapidly adopt new technologies and tap into the plethora of data available in order to increase efficiency, profitability and remain competitive. These emerging technologies include the internet of things (IoT), vehicle-to-vehicle and vehicle-to-infrastructure communication, efficient and reliable cloud-based data storage, faster data transfer protocols, artificial intelligence and machine learning.
In a rapidly modernizing world, there is a need for companies to become more dynamic and drive insights from data. In order for data management to create real and viable results, it requires changes to the way work is organized, how data is collected and used, and often a company culture change.
As technology advances so does the amount of data generated, which makes data management and strategy even more vital for success. All of these factors have created the perfect storm for big data in trucking. As a result, how we define, store, visualize and analyze data can determine the company's trajectory and competitive advantage.
According to the recent North Highland Annual Beacon Transportation Survey, executives understand the value of tapping into this data, but find it difficult to get started. Ninety-two percent of executives said that data and analytics are now a higher priority than last year. More than two-thirds (67%) said they would have a definite competitive advantage if they address this priority. However, the majority believe they are not prepared to do so.
An effective data strategy will position your company for future success
Transforming a company's data into a dynamic and competitive asset is both an art and a science. It is estimated that 60% to 73% of all enterprise data goes unused for analytics.
Some common data pains experienced by transportation organizations include:
➜"We are unable to synthesize truck, driver, weather, shipment, supplier, customer, incident and route data in real time. The data from the source systems cannot be integrated."
➜"We are not able to diagnose and predict freight demand, total shipment costs, transaction revenue, and optimize our fleet supply chain."
➜"We cannot produce meaningful analytics from sensors, dedicated short range communication (DSRC) and V2x data."
➜ "We spend too much time finding, cleaning, preparing and interpreting our data."
Before companies begin to address their data, they must first align around what data is collected or consumed, how that data is collected or consumed, and where the data is stored. As it pertains to trucking, there is a wealth of data being captured that can produce key business insights around revenue generation, cost savings and operational efficiencies.
From an operational perspective, telematics and sensor technology can provide an abundance of insights around sudden stops/breaking; routes (GPS – Lat / Long); truck load (empty, load, partial load, overload); door or hatches (open/closed); impact detector; wheel, brake, and bearing temperature; tire pressure; load imbalance, load shift, or sloshing; interior (temperature, light, moisture and pressure); fuel consumption and efficiency; derailment, door damage, or other catastrophic items.
How can the data be used to drive efficiencies in the maintenance to lower costs?
For trucking companies, gaining value from this data is key. Using the information gathered to determine when to maintain a vehicle based on usage, condition and wear, and targeting particular parts of a vehicle for maintenance, can drive efficiencies in predictive maintenance. If a vehicle is due for service, knowing that the collected data is pointing to a required maintenance intervention, and that additional parts should undergo maintenance at the same time to avoid unplanned service later and time out of operations, can lower overall maintenance costs and also improve operational productivity.
Utilizing a data blueprint allows trucking companies to gain a deeper understanding of the complex data flows that support all the interactions between partners, suppliers, distribution centers, products, services and ultimately the customer.
In order to make the best use of all this data, organizations must invest in their ability to precisely define data management protocols and standards, plus easily integrate and effectively retrieve data for both internal analytics and insights and external communication.
With an aligned understanding of the data ecosystem, organizations can draft their data-driven strategy and formulate key business insights and metrics that directly support the company's business strategy.
Key performance indicators that are tracked by freight companies include freight cost per unit shipped; outbound freight costs as percentage of net sales; inbound freight costs as percentage of purchases; claims as percentage of freight costs; perfect shipment measurement; freight payment accuracy; on-time delivery adherence; on-time pickup percentage; on-time in full (OTIF); out-of-network shipments; average cost per order; trailer utilization rate; average dwell time; transit time to distance; ship visibility/traceability percentage; mode selection versus optimal; and number of carriers per shipment.
Once the organizations clean and consolidate their data, make data accessible and double-down on data governance, achieving an insights-driven culture becomes easier. This involves accelerating the advancement of analytics capabilities from descriptive (what happened?) to diagnostic (why did something happen?) to predictive (what will happen?) to ultimately prescriptive analytics capabilities (what should we do?).
It is important to ensure that the insights follow modern visualization standards to help organizations form more intuitive conclusions to seamlessly connect strategy to day-to-day operations.
The organization must consider a shift change from relying on fixed maintenance scheduled and experience to using data to drive decision-making; be that in maintenance or operational improvements. This cultural shift will also require the people that work with the assets to understand both the value of collecting data and the changes it will make to their work.
Effective data management and improved asset utilization are forever intertwined, and those that master them quickly will gain the competitive advantage.
Chris McCarthy is vice president and global transportation lead for North Highland Worldwide Consulting. With 25 years of experience in the transportation industry and working with the rail, transit, state and federal government, private industry, and international banks, his specific areas of expertise include strategy development, project management, market analysis, financial planning, public policy, and international business and trade.