Trucking news and briefs for Tuesday, April 20, 2021:
Two truckers named TA-Petro Citizen Drivers
TravelCenters of America on Monday announced its eighth annual Citizen Driver Award honorees – Dan "Dusty" Porter, of Acton, Ontario, Canada, and Don Talley, of Muncie, Indiana. Chosen from 85 nominations, the two truckers have a combined 73 years of hauling freight, with nearly six million accident-free miles. TA President Barry Richards announced the Citizen Driver honorees live on the Dave Nemo Radio Show on Sirius XM's Road Dog Trucking Radio.
As a Citizen Driver Award recipient, drivers may choose a TA, Petro or TA Express location to be dedicated in their honor. To celebrate their career and contributions, a bronze historical marker with the driver's image and story is installed on front of the building, and a dedication ceremony is held with 30 of their closest family and friends.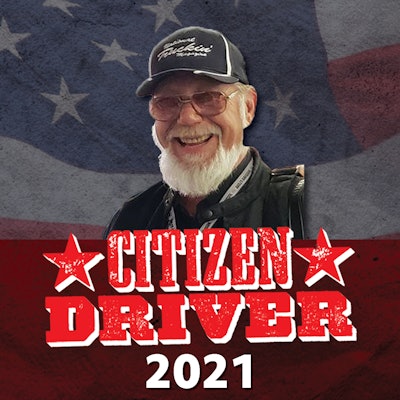 Porter, a driver for Werner Enterprises, has amassed 3.8 million accident-free driving miles in his 52-year trucking career. He chose the Petro in Glendale, Kentucky, to be dedicated in his name and is going to split his $2,500 donation between St. Christopher Fund and Truckers United for Charities.
Porter has served on the Driver Advisory Committee and regularly attended safety meetings during his time driving for Hyndman Transport. He is well-known at truck shows for freely photographing different non-profit groups, such as Women in Trucking, Trucker Buddy International, St. Christopher Truckers Relief Fund and more. He has also volunteered with the Special Olympics Truck Convoy, Convoy for a Cure, and more.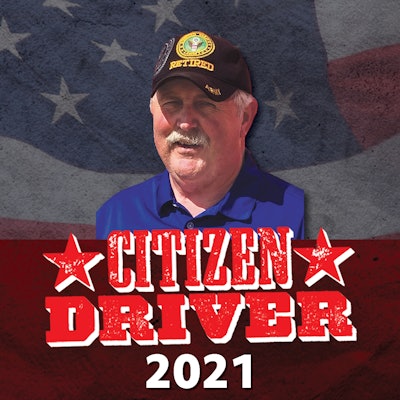 Talley is a U.S. Army veteran who drives for Carter Express. He has been driving for 21 years, logging 1.95 million accident-free miles. He chose the Petro in Gaston, Indiana, to be dedicated in his name. The St. Christopher Truckers Relief Fund will receive his $2,500 donation.
Talley received a Master Truck Driver Award from the Indiana Motor Truck Association and was named the association's Driver of the Month for May 2018 by their Safety and Maintenance Council. Carter Express has also recognized Don's safety achievements over the years, including being named Carter Express Driver of the Month for June 2018 and receiving the Carter's 1 Million Mile Safe Driver Award. Last year, Talley formed the Road Dog Crew to promote funding and representation of the St. Christopher Truckers Relief Fund and Truckers Against Trafficking. He also volunteers with Feed my Sheep, a Muncie non-profit with a mission to ensure all families in the area have a meal to share at Thanksgiving. He is an active member of his church and its food pantry with his wife.
IRS temporarily increases meal deduction for businesses
The Treasury Department and the Internal Revenue Service this month issued guidance that temporarily increases the amount that businesses can deduct for food and beverages from restaurants from 50% to 100%.
Beginning Jan. 1, 2021, through Dec. 31, 2022, businesses can claim 100% of their food or beverage expenses paid to restaurants as long as the business owner (or an employee of the business) is present when food or beverages are provided, and the expense is not lavish or extravagant under the circumstances.
Under the temporary guidance, restaurants include businesses that prepare and sell food or beverages to customers for immediate on-premises and/or off-premises consumption. Grocery stores and convenience stores that sell pre-packaged meals are not included.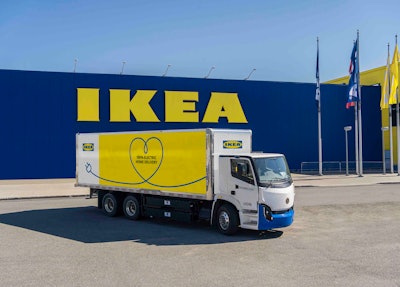 IKEA partners with last-mile delivery firm to integrate zero-emission trucks into fleet
IKEA Canada has partnered with technology-enabled logistics and last-mile delivery provider Second Closet, which will begin integrating zero-emission trucks into its fleet for IKEA home deliveries in several markets across Canada. Second Closet has submitted a purchase order to Lion Electric for 15 Lion6 heavy-duty zero-emission trucks.
The IKEA and Second Closet co-branded five-ton EV trucks that will service last-mile deliveries for IKEA locations in Boucherville, Quebec; Etobicoke, Ontario; and Richmond, British Columbia, are scheduled to hit the streets in fall 2021. This will enable IKEA to achieve 20% of its ambitious zero emission delivery goals.
"Electrifying our last-mile delivery service is an important step in our journey to become climate positive by 2030, especially with the rapid acceleration of our online business over the past year," said Michael Ward, CEO & Chief Sustainability Officer, IKEA Canada. "We are pleased to work with Second Closet and Lion Electric, two great Canadian innovators, to support us in meeting our customers with people and planet in mind."