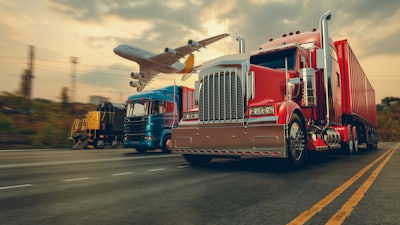 The global supply chain that powers the U.S.'s economy survived an unprecedented storm during the pandemic, and in doing so became the most-talked about story in business media. Everyone from the White House to the FMCSA to Bloomberg's business analysts have weighed in on historic supply chain disruptions that now lay bare the essential role logistics and transportation professionals play in the economy.
But what does the post-pandemic "new normal" mean for fleets and shippers? Essentially, it means adapt or die, according to the most recent Council of Supply Chain Management Professional's (CSCMP) annual State of Logistics Report.
"Resiliency, innovation, technology, and close collaboration with shippers have all been essential to weathering the rapidly changing market demands up and down the supply chain," Andy Moses, senior vice president of sales and solutions at Penske Logistics, said in a release presenting the report. "We see this continuing as supply chains reset and adjust to a new normal as consumer preferences and expectations have reshaped the future of the supply chain during the pandemic."
Before diving into the implications of the report on fleets and shippers, here's a quick look at the top line findings:
The report predicts U.S. GDP will grow by more than 7.7% in 2021 as fiscal stimulus, rising consumer spending and low rates buoy sales and production.
This will likely lead to rising inflation which could prompt monetary tightening from the fed.
Trucking volumes are up and so are rates, so shippers will likely try to use technology to improve efficiency and push costs down.
E-commerce jumped 33% to $792 billion or 14% of all retail sales, putting more pressure on shippers to satisfy customers. Look for intense investment and innovation around last-mile delivery models.
Ocean and air freight got disrupted and now have to contend with intense delays and bottlenecks.
How the pandemic impacted trucking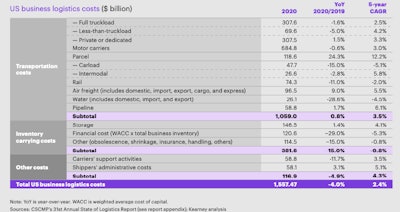 A quick look at this chart shows motor carrier costs slid 0.6% in 2020 compared to 2019. Full truckload carriers dropped 1.6%, less-than-truckload carrier costs dropped 5%, yet costs jumped 1.5% for private and dedicated fleets. The rising tide of e-commerce sent parcel delivery costs up 24.4%.
However, driver pay actually climbed in 2020, so the dip in carrier costs owes to a mix of factors unique to the pandemic, according to Don Ake, FTR vice president of freight transportation research told CCJ.
"Carriers likely saw lower overall wage costs due to reduced trucking activity," Ake said. "For-hire carriers probably saw a greater cost reduction than did private fleets, as the latter group's wages tend not to be quite as variable, at least on the downside."
Ake cited BLS statistics saying average weekly earnings for for-hire trucking rose about 6% during 2020, but that a reduced headcount and reduced miles due to the pandemic probably dropped payroll wage costs about 1%, which tracks with CSCMP's findings.
Tim Denoyer, the vice president of ACT Research and a senior analyst there told CCJ that a dip in fuel costs "outweighed the relatively modest increases and insurance costs" as driver pay increases "didn't really start until sometime in Q3."
"With both driver pay and fuel costs up significantly, next year's report will likely look much different," Denoyer said.
CSCMP also projects rates will stay near historic highs through the end of 2021. Furthermore, the report speculates that fleets will rapidly modernize in areas they had lagged.
"[A 2020] fourth-quarter recovery suggests that continued economic growth will keep rates high through 2021, until new trucks and drivers can increase available capacity," the report reads. "The need to avoid 'touch' processes during the pandemic may have overcome the industry's long-standing resistance to digitization. If so, technology will improve service levels, with advances including online freight booking, which improves efficiency, and electronic logging devices (ELDs), which provide data that is used to curb time-wasting behaviors."
But other experts weren't so sold on the impact of tech just yet. "Technology is likely having only a marginal impact because the system is so stressed and supply chains are so disrupted," said Ake.
Looking forward, Denoyer said that technology will play an increasing role in mitigating costs, and that it could be as simple as a smartphone app.
"Other operating expenses like communications were also down in 2020, according to public carrier data we track," he said. "This suggests some degree of success with the smartphone app-based driver management systems that a lot of fleets and logistics companies have rolled out."
Essentially, consumers became more demanding than ever of shippers, and the freight market must now cobble together an innovative response to ensure customer satisfaction while facing a driver shortage, rising fuel prices and tight capacity. According to Denoyer, any tech-savvy response to the overheated freight market must factor in the driver shortage.
"[New technology won't] outweigh the effect on costs from the extraordinary driver shortage," he said. "There are currently 20%-30% increases in driver pay in the market, and that's nearly half of fleets' expenses. In addition to pay, we think the rise in vaccination rates and end of extraordinary government stimulus will help the shortage to ease and begin to rein in costs. As new drivers start entering the market, the choice of software will be an important one for cost efficiency."
Tight labor market impacts freight
The report projected that overall unemployment would continue to drop, but that fears of a truck driver shortage remained well founded.
"In 2020, the transportation sector shed about 74,000 jobs. This is compared to a gain of just under 120,000 jobs the prior year," it reads. The report noted the aging truck driver demographic faced an uphill battle against other, more vibrant sectors like warehousing.
According to the most recent BLS statistics, in May of 2021 the truck transportation industry employs 45,100 fewer workers than it did in February 2020.
"[L]abor markets in the logistics industry will remain tight because these relatively low-paying jobs compete with others that promise better conditions."
Strange times in the freight market
The report stressed that wild cards in the world's economic recovery from COVID-19, as well as natural disasters and trade disputes, have the ability to radically shift segments of the freight market. The report advises logistics professionals to stay flexible and expect the unexpected.
"In a normal year, the macroeconomic situation has a simple relationship with logistics. Faster growth increases demand for logistic services, leading to higher prices as capacity catches up. But the 2020 upheaval of supply chains created chaos that placed gigantic demands on logistics. The result was higher prices for logistics services despite a shrinking economy. Some logistics providers cut back on capacity, others waited to add it, and many found their existing capacity ill-matched to demand, with empty trucks and ships, for example, idled far from where they were needed without return loads."
Indeed, CCJ's own reporting has identified many of these trends. The trailer market, for example, has seen 2021 order books near full while 2022 order books sit nearly empty and many are not yet open. Semi truck sales have followed a similar pattern as the semiconductor shortage hamstrings production and basic materials like rubber and steel soar in price.
Overall, the report recommends getting used to volatile markets.
"In 2021, demand stays varied by supplier sector, transportation mode, and geography. Sudden jumps and dips will result from unpredictable, uncontrollable events. Shippers and carriers alike should plan for optionality in the face of instability. Logistics, like the economy as a whole, is in the midst of another wild ride in 2021," the report stated.
To access the full report, click here.