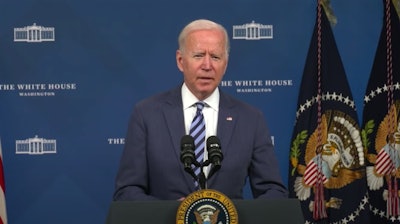 The White House
President Joe Biden today blamed a sharp slow down in hiring for August on COVID and unvaccinated Americans as trucking pulled away with positive job growth.
The Labor Department's jobs report this morning showed that only 235,000 nonfarm new hires entered the workforce last month, a 60% drop from the monthly average of 586,000 job gains for the year and a nearly 68% off the 720,000 new hires forecast by global market analysts at Refintiv.
"There's no question that the Delta variant is why today's job report isn't stronger," Biden said this morning during a White House press conference. "I know people were looking, and I was too, for a higher number."
[Related: Senate passes $1 trillion infrastructure bill with AEB, under 21 apprenticeship pilot]
Biden said he'll lay out plans next week "to combat the Delta variant" which disease experts, including Dr. William Schaffner, medical director of the National Foundation for Infectious Diseases, say is much more contagious than prior strains and more concerning given breakthrough cases among the vaccinated.
Biden made no mention of breakthrough cases or vaccination booster shots and instead blamed the resurgence on unvaccinated Americans.
"We need to make more progress in fighting the Delta variant of COVID 19. This is a continuing pandemic of the unvaccinated," Biden told masked reporters. "Since becoming president, I've ramped up testing, secured enough vaccine for every single American, and gotten 175 million Americans fully vaccinated. Still, too many have not gotten vaccinated and it's created a lot of unease in our economy and around our kitchen tables."
Trucking gets job gains
Despite the overall underperformance of new hires for August, the transportation and warehousing sector saw more than 53,000 positions filled. Professional and business services saw the biggest gain with more than 74,000 jobs filled while more than 37,000 new employees made their way into manufacturing.
"Despite the August jobs pothole broadly, the truck driver jobs number was positive, with 5,400 new truckers added in August, and July was revised up 1,400," said ACT Research President and Senior Analyst Kenny Vieth. "The SAAR [seasonally adjusted annual rate] of truck driver job growth since the curtailment of extended unemployment benefits that started in June has accelerated 50 basis points to 4.5% [year over year]."
[Related: Events canceling during COVID resurgence]
Though Biden blamed last month's overall hiring slump on COVID, Vieth said the outlook regarding economic impact from the disease remains unclear.
"The Delta variant is a tough-to-quantify concern regarding the overall macro picture," Vieth said. "From a truck freight perspective, if people stay home more they are more likely to spend discretionary dollars on the goods that go into the backs of trucks, rather than on experiences, which don't."
'Wide array of support' still available
Though federal benefits are "set to expire," as Biden explained, plenty of government resources remain.
"As we continue to fight the Delta variant, the American Rescue Plan we passed continues to support families, businesses and communities," Biden said. "Even as some of the benefits that were provided are set to expire next week, states have the options to extend those benefits and the federal resources from the rescue plan to do so. States continue to have access to a wide array of support."
During the latter half of the nearly 30-minute long presser, Biden promoted his Build Back Better plan and prompted Congress to "finish the job of passing my economic agenda so that we can keep up the historic momentum we've been building these last seven months."
Biden's $4 trillion agenda, which hinges on the fate of infrastructure and budget reconciliation bills, would support various social, climate change and infrastructure projects including clean energy production that Biden said would add "millions of jobs in building windmills and solar panels all around the country." Such projects, the president said, would be funded through increased tax revenue from corporations and Americans with annual incomes above $400,000.
"Wealthy people aren't paying the taxes they owe," Biden said. "We're going to change that."