Trucking news and briefs for Thursday, Sept. 16, 2021:
Louisiana staged-accident fraud scheme up to 40 indictments, 27 guilty pleas
United States Attorney Duane A. Evans has recently announced two more guilty pleas and seven new indictments in the widespread staged-accident fraud scheme in New Orleans, bringing the total to 40 indictments and 27 guilty pleas.
On Aug. 2, Genetta Israel, 53, of Houston, Texas, pleaded guilty to conspiracy to commit wire fraud. She and three others were charged with staging an accident on June 12, 2017, in New Orleans. Israel was allegedly recruited to participate in the scheme to obtain money through fraud.
Israel was treated by doctors and healthcare providers at the direction of an attorney also involved in the scheme and received a nearly $60,000 settlement from the staged crash.
On Aug. 11, Dewayne Coleman, 22, of Marrero, Louisiana, also pleaded guilty to conspiracy to commit mail fraud, stemming from a staged accident that occurred on Sept. 6, 2017. Coleman admitted that he was a passenger in a co-defendant's car being driven by another co-defendant who intentionally crashed into a tractor-trailer owned by Averitt Express.
After the staged accident, the driver exited the car and told another passenger to get behind the wheel to make it look like she was driving. Coleman retained counsel after the staged crash and received a $30,000 settlement for the accident.
In 2019, Coleman provided false testimony in depositions taken in conjunction with the lawsuit, allegedly lying about who was driving the car at the time of the staged accident and the extent of their injuries.
Finally, on Aug. 26, seven more individuals were indicted related to the staged-accident scheme. Ashley McGowan, Lertrice Johnson, Davienque Johnson, Herbert Allen, Troylynn Brown, Dion Ridley and Jarvis Brown were charged in a four-count federal indictment. All seven were charged in count one with conspiracy to commit mail fraud; McGowan, Lertrice Johnson and Davienque Johnson were charged in count two with mail fraud; and Allen, Troylynn Brown, Ridley and Jarvis Brown were charged in counts three and four with mail fraud. If convicted, the defendants face a maximum penalty of 5 years for count one and 20 years as to counts two-four.
The indictments stem from two incidents – one on June 8, 2016, when McGowan and the Johnsons staged an accident and allegedly lied in depositions; and the other on June 28, 2017, involving Allen, Ridley and the Browns, in which they also allegedly lied in depositions following a staged accident.
Postal service fleet Matheson tests natural gas-powered T680 Next Gen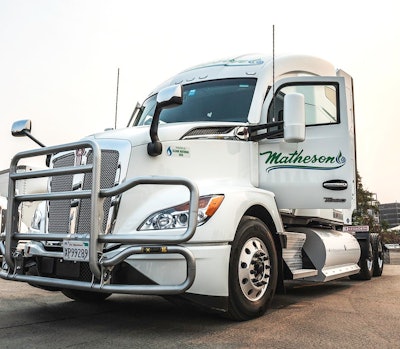 Early this year, Matheson Postal Services (CCJ Top 250, No. 242) became one of Kenworth's first customers to receive and place into service a T680 Next Gen equipped with a Cummins Westport ISX12N natural gas engine. The Sacramento-based company provides regional and cross-country transportation for leading postal and shipping service providers, such as the United States Postal Service (USPS) and FedEx.
With 95 classic Kenworth T680s and T880s equipped with 400-hp Cummins Westport ISX12N engines already in operation, Matheson was an ideal candidate to evaluate the T680 Next Gen.
Since being placed into service, the T680 Next Gen equipped with a 76-inch sleeper is on a dedicated route, making runs to and from Spokane, Washington, and Sacramento, California. The company closely monitors the truck's performance and compares it to the classic T680s running the same route. So far, the T680 Next Gen has put more than 50,000 miles on the odometer – and one measurable that stands out is the enhanced fuel economy.
"We have 15 classic T680s running the same route with the exact same powertrain specs as the T680 Next Gen, and the improvement in fuel economy is impressive," said Daniel Shandy, Matheson Postal Services fleet maintenance director. "Factor in the diesel gallon equivalent (DGE) for compressed natural gas (CNG), and our T680 Next Gen averages an increase of 0.64 miles per gallon compared to our classic T680s. That's significant."
Transflo intros new document automation services
Transflo this week introduced Transflo Intelligent Automation (TIA), a suite of document automation services for carriers, brokers, factoring providers, shippers and more.
Transflo says its TIA "significantly cuts the number of the days it takes to bill customers and receive payment for services rendered." It also cuts down on hours spent by back-office personnel manually sorting and managing paperwork.
TIA extracts data from digitized freight documents like Bills of Lading, Proof of Deliveries, freight invoices, maintenance reports and hours of service logs. Drivers can upload these documents quickly on the road using the Transflo Mobile+ app.
The extracted data is automatically processed and delivered to pre-selected fleet personnel and integrated into accounting, invoicing, maintenance reporting, and transportation management system platforms. Documents are then automatically classified and indexed, and then uploaded for long-term storage within a web-based dashboard, the Transflo Portal, which serves as a single point of contact for invoicing, settlements, driver tools, and integrations with TMS platforms.