Trucking news and briefs for Thursday, Oct. 7, 2021:
Covenant completes multi-year rebranding effort
Covenant Logistics Group (CCJ Top 250, No. 38) announced the completion of a multi-year rebranding effort, including a new name and more.
Covenant Transportation Group has transitioned to a new name, Covenant Logistics Group, to better represent the company's true logistics capabilities and available services, the company said.
"This name change comes with the recognition that Covenant offers more than transportation services," said Joey Hogan, President of Covenant. "Five years ago, we began a journey to transition the company to more of a true logistics provider. The merger of Landair Holdings with legacy Covenant three years ago provided a boost to the enterprise with the opportunity to grow in the overall transportation and logistics marketplace by adding warehousing and a more holistic freight management service offering."
Following the merger, Covenant began the work to update the branding and its digital footprint. The primary information source for Covenant will remain the company website. Covenant's official website can now be found here.
In addition to Covenant's three primary corporate facilities in Chattanooga, Greeneville and Nashville, the company has shops, terminals, office locations and 15 warehouse locations, all giving Covenant a footprint in 38 states across the country.
Penske dedicates new classroom at Maryland tech school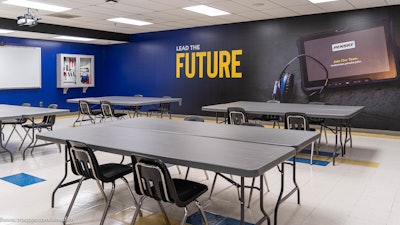 Penske Truck Leasing recently held a dedication ceremony at Lincoln Tech in Columbia, Maryland, as the company branded a 1,000-square-foot multipurpose classroom at the school.
The space will mainly be utilized during Lincoln's Driving Your Performance course, which introduces students to various topics such as vehicle and engine systems, industry certifications and career opportunities in the industry.
Over the last 10 years, Penske has hired more than 220 graduates from Lincoln Tech's Columbia, Maryland, campus to work as truck maintenance technicians in its regional operations.
"We are very pleased to support Lincoln Tech's work in training the next generation of maintenance technicians," stated Brian Borgoyn, Penske Truck Leasing area vice president. "The school represents a vital talent pipeline for our company's operations across the Mid-Atlantic region. Properly trained technicians are key to providing uptime to support the transportation operations of our customers."
Lone Star Overnight recognized by customer after expanding footprint
Parcel delivery company Lone Star Overnight recently expanded its footprint to five new states, and its customer, CarParts.com, is recognizing the company for its efforts.
"Since January 2021, CarParts.com has used LSO's services to efficiently reach customers in Texas and Oklahoma," said David Meniane, Chief Financial Officer and Chief Operating Officer of CarParts.com. "We're thrilled to hear about LSO's latest expansion and look forward to growing our partnership as its network expands."
Prior to the expansion, LSO's geographic coverage hadn't changed much during the last 30 years. However, e-commerce and business customers have been strongly encouraging expansions throughout the company's service area.
Today, LSO's service area includes 100% of Texas zip codes and nearly two-thirds of the Oklahoma population and can reach approximately 32 million people. This expansion will increase the company's overall parcel delivery coverage by more than one-third to a total population reach of approximately 43 million people and a similarly large percentage of e-commerce orders and the gross domestic product of those areas.
Volvo receives order for 100 electric trucks in Europe
Volvo Trucks has received an order for 100 FM Electric trucks from DFDS, Northern Europe's largest shipping and logistics company. The deal is the largest commercial order to date for Volvo electric trucks, and one of the largest ever for heavy electric trucks worldwide.
First deliveries of the Volvo FM Electric to DFDS will start in the fourth quarter of 2022 and continue throughout 2023. The trucks will be used for both short and long transport in the DFDS logistics system in Europe.
Volvo Trucks started serial production of electric trucks in 2019, as one of the very first truck brands to do so. The product range now includes six electric truck models – the Volvo FH, Volvo FM, Volvo FMX, Volvo FE, Volvo FL and the Volvo VNR, sold in North America.