Trucking news and briefs for Friday, Oct. 15, 2021:
PGT Trucking agrees to lease Nikola hydrogen tractors

Flatbedder PGT Trucking (
CCJ
Top 250
, No. 101) has signed a Letter of Intent (LOI) to lease 100 Nikola Tre heavy-duty fuel cell electric vehicles (FCEVs) following the satisfactory completion of a Nikola Tre FCEV demonstration program under terms to be agreed to between the parties. The lease order will include the Nikola Tre FCEV, scheduled maintenance and hydrogen fueling solutions.
Deliveries of the FCEVs to PGT are anticipated to begin in 2023 when production commences at Nikola's Coolidge, Arizona manufacturing facility.
Designed for longer or continuous metro-regional applications, the Nikola Tre FCEV cabover has an anticipated range up to 500 miles and will join PGT's freight hauling fleet that serves the steel, building materials, machinery, oil and gas, raw materials, aluminum and automotive industries.
"For 40 years, PGT Trucking has focused on revolutionizing and refining our core competency through technology innovation. It is the forward-thinking and strategic partnerships, like we have with Nikola, that allow us to cultivate transportation advancements," said Gregg Troian, President of PGT Trucking. "This partnership will give us the opportunity to offer progressive transportation solutions to our customers, while aligning with corporate-driven sustainability initiatives, and reducing their carbon footprint using innovative energy sources. Sustainable freight transportation will improve safety, reduce costs and CO2 emissions, and improve economic efficiency. PGT is proud to partner with Nikola as we evolve our fleet with a broad focus on the future of flatbed."
Trucking conditions back on the rise after three months of easing
After easing modestly but steadily since April's record level, FTR's Trucking Conditions Index (TCI) in August rose slightly to a reading of 11.63.
Freight volume and capacity utilization were not quite as favorable for carriers in August as they were in July, but more robust freight rates resulted in stronger overall market conditions. FTR's TCI forecast remains for strong positive readings well into 2022. "Market conditions in trucking still strongly favor carriers, and we have no real sign of an inflection on the horizon," said Avery Vise, FTR's vice president of trucking. "After healthy – though not especially robust – gains in payroll employment during the summer, trucking job growth was relatively weak in September."
Vise noted that a shift in capacity from larger carriers to startups is continuing, "adding to the supply chain disruptions that are bolstering spot market volume and rates for much longer than we would expect in a 'normal' hot market like we saw in 2017 and 2018."
The impact of increasing diesel prices could cause a swing of capacity back to larger carriers if spot metrics soften, Vise added, "but we have no indication of that happening yet," he said.
J.B. Hunt recognizes multi-million mile safe drivers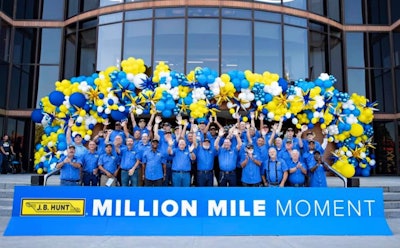 J.B. Hunt (CCJ Top 250, No. 3) recently recognized 116 company drivers for achieving two, three, four, and – for the first time in company history - five million miles driven without a preventable accident, awarding more than $1.6 million in safe driver bonuses.
The drivers were honored over the past two weeks during the company's annual Million Mile Celebration at corporate headquarters in Lowell, Arkansas marking the 20th anniversary of the event.
To commemorate the milestone, J.B. Hunt drivers and employees participated in the Million Mile Walk of Fame, an annual company tradition. The Million Mile drivers descended four flights of stairs lined with employees greeting them with cheers and applause to express appreciation for their safety efforts.
"Our Million Mile drivers represent the epitome of who we want all of our drivers to be," said Nick Hobbs, chief operating officer and president of contract services at J.B. Hunt. "It's their unwavering commitment to be the very best at what they do that makes this accomplishment so special. We couldn't do what we do without them."
In addition to the celebration, drivers will receive further recognition on J.B. Hunt's Million Mile Wall. The wall lists all company drivers who have achieved between one and five million safe miles while employed at J.B. Hunt, totaling almost 4,000 drivers.