Trucking news and briefs for Wednesday, Oct. 27, 2021:
Sumerford named new ATA Chairman
Harold Sumerford Jr., CEO of Birmingham, Alabama-based J&M Tank Lines, was elected the 77th Chairman of American Trucking Associations' Board of Directors. He succeeds Sherri Garner Brumbaugh, president and CEO of Garner Trucking.
Sumerford has been deeply involved in the trucking industry, and is a past chairman of ATA Federation members the Georgia Motor Truck Association and the National Tank Truck Carriers. In addition, he and J&M have been longtime members and supporters of the American Transportation Research Institute and the Truckload Carriers Association, in addition to GMTA and NTTC.Under Sumerford's leadership, J&M Tank Lines has won numerous state and national safety awards and an ATA Mike Russell Trucking Image Award for the company's work during the pandemic.
""Harold is the consummate professional, and a tremendous ambassador for our industry," said ATA President and CEO Chris Spear. "His story – working in the family business until he ran the family business –could not be more representative of what trucking is all about. I'm looking forward to working more closely with him as chairman and want to congratulate him on this honor."
The Board also elected Dan Van Alstine, president and COO of Ruan Transportation Management Systems, Des Moines, Iowa, as ATA first vice chairman and Andrew Boyle, co-president of Boyle Transportation, Billerica, Massachusetts, ATA second vice chairman. In addition, the Board named Darren Hawkins, CEO of YRC Worldwide Inc., Overland Park, Kansas, and Dennis Dellinger, president and CEO of Cargo Transporters, Hickory, North Carolina, as ATA vice chairmen. In addition, the Board re-elected John M. Smith, chairman of Admiralty Holdings Inc., as secretary and John A. Smith, president and CEO of FedEx Freight, as treasurer.
U.S. Capitol Christmas Tree begins cross-country journey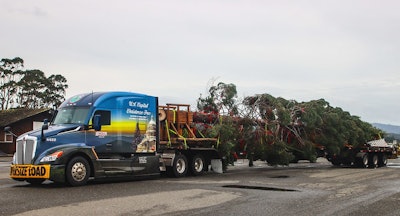 The 2021 U.S. Capitol Christmas Tree began its journey from the Mad River Ranger District of the Six Rivers National Forest in California to Washington, D.C., following its harvesting on Oct. 23.
The harvest ceremony included brief remarks by USDA Forest Service leadership, local elected officials and project partners, as well as a blessing by the Lassic Band of Wylacki-Wintoon Family Group Inc.
A Kenworth T680 will transport the 84-foot White Fir, nicknamed "Sugar Bear," to a full slate of community celebrations during a 3,300-mile journey from Northern California to Washington, D.C. 'Six Rivers, Many Peoples, One Tree' is the tour theme.
System Transport, the official designated tour carrier, is using its new T680 equipped with a 76-inch mid-roof sleeper to carry the special tree. It marks the eighth consecutive year that a Kenworth truck will deliver "The People's Tree."
Below is the 2021 U.S. Capitol Christmas Tree Tour public schedule:
Oct. 29: Crescent City and Eureka, California
Oct. 30: Willow Creek and Fortuna, California
Oct. 31: Ukiah, California
Nov. 2: Dixon, California
Nov. 3: Sacramento and Sonora, California
Nov. 4: Mariposa, California
Nov. 6: Pasadena and Redlands, California
Nov. 8: Holbrook, Arizona
Nov. 9: Petrified Forest National Park, Arizona
Nov. 11: Albuquerque, New Mexico
Nov. 13: Fayetteville, Arkansas and Springfield, Missouri
Nov. 16: Williamsport, Maryland
Nov. 19: Delivery to West Lawn, U.S. Capitol Building (Washington, D.C.)
Mack to offer electric APU on Anthem sleeper models
Mack Trucks announced this week it will offer a factory-installed electric auxiliary power unit (eAPU) for its 70-inch Mack Anthem sleeper models.
The Idle Free Series 5000 eAPU offers customers increased air-cooling capacity, reduced idling and simplified maintenance for improved total cost of ownership.
"Reduced idle time means increased fuel savings and engine life for Mack customers, along with decreased engine maintenance costs," said Stu Russoli, Mack Trucks highway product manager. "The Idle Free eAPU also improves driver comfort because of its high-performing electric cooling capacity, which runs more quietly than diesel-powered APUs and can help drivers have uninterrupted rest time."
The Idle Free eAPU features a 10,000 BTU compressor and three-speed evaporator fan to direct the airflow to the sleeper without duct work, allowing the driver to easily adjust temperature and fan speed from the control panel located on the evaporator in the bunk.
The system can be retrofitted with an automatic start-stop kit, which allows the truck to automatically idle to recharge the batteries, turning the engine off when they are fully charged.
The Idle Free eAPU will be available for order in Q2 2022.
Hogan earns EPA SmartWay award
Hogan Transportation (CCJ Top 250, No. 64) was honored with the SmartWay Excellence Award from the U.S. Environmental Protection Agency as an industry leader in environmental performance and energy efficiency.
Hogan has adopted many fuel saving strategies, including auxiliary power units, speed restrictions, halos, trailer skirts, fuel efficient tires and longer side extenders. The company says it works to constantly update its fleet in order to have newer trucks on the road emitting less carbon dioxide, nitrous oxide, and particulate matter.
Hogan Transportation was one of 62 truck and multimodal carriers to receive the distinction, representing the best environmental performers of SmartWay's nearly 4,000 partners.