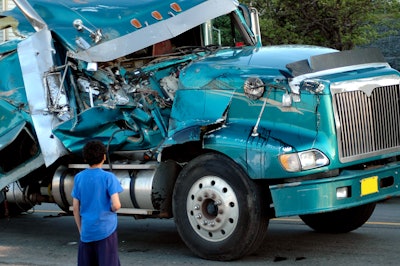 Few things can shut a trucking company down faster than a crash – either through substantial premium increases or a crippling financial judgement.

Want to know the secret to lowering insurance costs? It's driver data.
Do you know which drivers are causing your insurance rates to soar? What small driver management changes can you make that will pay off big in reduced risks and lower insurance costs? With decades of experience in the transportation insurance market, experts from the Central Analysis Bureau will use their deep data analysis to show carriers what insurers are looking for and demonstrate steps they can take to keep premiums down and avoid nuclear verdicts.
Join us in person at the the 2021 CCJ Solutions Summit, Nov. 30 - Dec. 2, in Chandler, Arizona. CCJ Summit assembles fleet executives, thought leaders, industry analysts and leading suppliers to explore ways equipment, technology and corporate culture can shift the driver paradigm and overcome your No. 1 challenge: Cultivating a qualified workforce.
Don't miss your chance to collaborate and socialize in-person with your peers at the picturesque Sheraton Grand at Wild Horse Pass.
Over the last six years, nuclear verdicts have grown 235% (there have been more than 300 in the last 60 months) and have reached the point "they are becoming incredibly common," said Hayden Cardiff, founder of driver management platform Idelic and the company's chief innovation officer.
"Plaintiff attorneys don't put the facts of the case on trial," he said, adding, instead, they focus on putting the carrier on trial because that's where the money is. "They're putting these fleets under a microscope."
[Related: Experts explain how to make your fleet defensible from nuclear verdicts]
Brandon Guiliani, agency principal with transportation insurance specialist Seubert & Associates, conceded that trucking company's insurance rates are indeed going up, but despite rate increases he said transportation's property and casualty market hasn't turned a profit since 2010.
"Unfortunately, when that happens, you have a lot of [insurance companies] exiting the marketplace," he said, adding that underwriters can't make money because losses outweigh premiums thanks to factors like inflation, the looming threats of nuclear verdicts and the increasing cost of vehicles.
Nuclear verdicts have also changed the capacity levels that insurance carriers will offer, with some dropping policy coverage capacity from $5 million down to $1 million, leaving carriers who want a safety net of coverage to piece policies together from multiple providers. Lost in that price-driven piecemeal process is the relationship between the carrier and the insurance company, which Guiliani said can help uncover savings and opportunities.
"These insurance carriers are trying to mitigate risk as much as they can," Cardiff added, "and if they don't know something, they're going to assume the worst."
The biggest hurdles when approaching a renewal, Guiliani said, is showing an underwriter that the fleet is utilizing data to prevent and document incidents. He said carriers should be open with their underwriters because that relationship can help uncover opportunities to increase safety, even if that includes opening up fleet data to the underwriter.
[Related: Watch, coach & delete: Using data to fight off accident verdicts]
"They're underwriting you. If you give them any ammunition to increase that rate, they'e going to take it," he said, noting it's often a question of when not if regarding an accident. "Carriers need to start evaluating what they are doing in preventing accidents, evaluating drivers and any proactive approaches in driver training. If we're doing everything we can to prevent (accidents), why aren't we letting (underwriters) in?"
That so many providers have left the segment, insurance markets left are evaluating fleets on rings of costs, and fleets that don't embrace all levels of available safety technologies should expect a bump in rates.
"93% of all accidents are caused by human error," Cardiff said, "and technology gives you a predictive tool on when accidents might happen."
Cultural shift
Guiliani said making a case that a fleet is as safe as possible starts at the top and hits every person on the way down, adding it's not solely about safety. Safety is tangental to prevention.
"It's all about developing, changing, the culture of prevention," he said. "You need to start preventing. What are we doing from a driver management standpoint to either minimize or prevent accidents in the beginning?"
[Related: New Texas law deals blow to Reptile Theory trial strategy in crash litigation]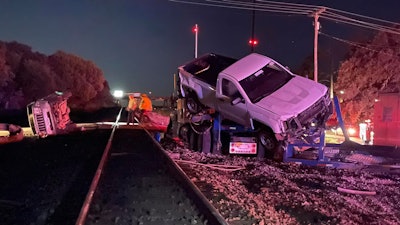 It's not enough to simply gather data. Fleets have to do something with it. Guiliani conceded many trucking companies see that as difficult since a spectrum of safety systems generates mountains of information and that data flow can be overwhelming to one person responsible for hundreds – if not thousands – of drivers. Cardiff said a pivot toward "operationalizing safety" can streamline the flow of data because it gives all stakeholders involved skin in the game.
"All data needs to be shared among all safety individuals," Guiliani said, "from your safety (department) to your risk (department)."
Guiliani said drivers often offer the best insight into the company's safety culture because if its not a priority for management, it's not a priority for drivers. He added instilling a culture of prevention should be a priority in the driver onboarding process and drivers who are not a cultural fit should be weeded out.
"10% of your fleet causes 90% of your problems," he said, adding that the 90% should be rewarded for being safe drivers because a rewards program is good proactive safety measure.
Embrace technology
Both Cardiff and Guiliani advocate the effectiveness of driver and forward-facing cameras as a defense mechanism in a court case and as a driver training tool. Guiliani said it's likely that insurance carriers will eventually mandate technology like cameras and event recorders.
While these can be unpopular with drivers, Guiliani said fleet managers can spin the Big Brother perception, adding that fleets have the most success when "drivers know that you're watching after them, not over them," he said. "Drivers want to know you've got their back."
Cardiff suggested having driver advocates explain to fellow drivers how cameras can be a benefit, not only for the fleet but also for the driver personally.
"At the end of the day, everybody just wants to avoid litigation," he said.