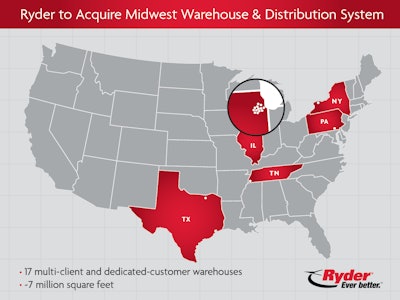 Ryder System (CCJ Top 250, No. 14) said Wednesday it will acquire Midwest Warehouse & Distribution System, a Woodridge, Illinois-based provider of warehousing, distribution and transportation solutions primarily for food, beverage and consumer packaged goods (CPG) companies.
Midwest operates nine multi-client and eight dedicated-customer warehouses in five regions, primarily in the greater Chicago area, but also New York, Pennsylvania, Tennessee and Texas. Midwest's warehouse space totals approximately 7 million square feet and is supported by a company-owned fleet of trucks.
Ryder's President of Global Supply Chain Solutions Steve Sensing said the company has been eyeing multi-client warehousing and distribution capabilities "for some time," adding Ryder currently serve nine of the Top 10 U.S. food and beverage companies, "and this acquisition enables us to offer those customers – as well as additional blue-chip customers in Midwest's portfolio – even more capacity and greater flexibility."
Ryder will integrate Midwest's facilities and operations into its CPG business, retain Midwest's executive team and continue operations with the company's workforce.
"Multi-client warehouse environments are a great entry point for new customers looking for a 3PL that can meet their needs now and in the future," said Darin Cooprider, senior vice president of CPG for Ryder. "As our customers' businesses grow and evolve, we can seamlessly transition them from multi-client warehouses to dedicated facilities. We offer dedicated transportation solutions for guaranteed capacity and a robust transportation management offering which can help mitigate market fluctuations. And, we offer proprietary technologies that set the standard for real-time visibility and collaboration across the end-to-end supply chain, so we can help our customers avoid costly delays and continually find efficiency gains. We do what we do best, so our customers can focus on what they do best."
The transaction is expected to close next month.