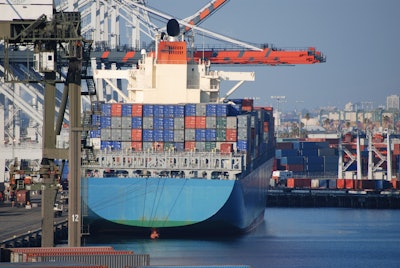 While the White House and national media focus on the constraints that have paralyzed the ports of Los Angeles and Long Beach in recent weeks, transportation industry leaders from all segments of the supply chain warn the problem is much broader and more systemic than simply port congestion.
No freight transportation segment is immune from the current crisis as unprecedented freight demand across rail, ocean carriage and trucking expose supply chain inefficiencies at a time when labor shortages plague factories, transportation providers and dock workers.
"We've had some significant disruptions on the West Coast in the past, but it didn't affect the entire supply chain," said John Butler, president and CEO of the World Shipping Council. "What we have now is different in kind than what we have seen before because we have saturation across all modes. We have a situation where our collective customers aren't able to pull the goods forward out of the ports because they have nowhere to put them or no way to send them on to their final destination. That is a different situation than we've dealt with before."
Butler was one of several association heads from all modes of freight transportation that participated in a panel discussion this week at the American Trucking Associations' Management Conference and Exhibition in Nashville to discuss the causes of the supply chain crisis and what can be done to alleviate freight flow issues.
"We shouldn't go back to normal because normal isn't working right now. Shippers need to get better about how they communicate with their providers, and providers need to be more forthcoming about the issues they are experiencing." Gail Rutkowski, executive director for the National Shippers Strategic Transportation Council
"When any piece of the supply chain isn't able to operate at full capacity, it has reverberating impacts," said Ian Jefferies, president and CEO of the Association of American Railroads. The record intermodal volume in the last six months has seized the rail sector, causing major backups at rail yards thousands of miles from any major port.
"Specifically Chicagoland where a lot of our major intermodal terminals are, through the late part of July and into August, the ingates to our intermodal yards exceeded our ability to outgate," said Jefferies. "We had to take some dramatic steps to slow traffic from the West Coast." At one point Jefferies said one railroad had 20 intermodal trains waiting outside of its Chicago terminal just to be able to go in and unload because the massive volume of outbound containers.
Jefferies noted measures were taken to increase storage capacity in and around yards in the central part of the country, including incentivizing off-hour and weekend pickups, and opening dormant rail yards to increase container storage capacity. "Just doing that doesn't solve the problem, it just treats the symptom some," he said.
Congestion throughout the supply chain is exposing inefficiencies never seen. "A port might be picking up three containers to get to one to put onto a train," said Butler. "A trucker has to come into a port to pick up a box and wait to go through that same thing. When you put those impediments into the process, you slow down the entire chain."
Chris Spear, ATA president and CEO, said it will require exposing chokeholds and bottlenecks throughout the supply chain to alleviate pressure, something he expects will take three or four quarters. "It will be turbulent, so strap in," Spear warned.
From a shipper perspective, the biggest issue caused by the supply chain crisis is the lack of consistency needed to plan inventory and schedule workers.
"Not being able to have consistent delivery times is really causing issues with inventory," said Gail Rutkowski, executive director for the National Shippers Strategic Transportation Council (NASSTRAC). "On the flipside of that, even if you can get it there on time, they may or may not have the warehouse employees to unload it. Unless we all to work together to mitigate this on all levels and in all areas it will continue."
No mode touches freight more often throughout the supply chain than the trucking industry. ATA recently upped its estimate of the current driver shortage from 61,500 drivers before the COVID-19 pandemic to 80,000 drivers today. Spear said if nothing changes, that number could double by 2030.
"Those projections should be alarming, and it creates more pressure on all the modes when we are not able to play the role we are expected," said Spear, who added chip shortages and sensor shortages are sidelining equipment and carrier capacity to move freight.
Butler said the supply chain problems seen in the U.S. are being seen across the globe from an ocean shipping perspective.
"The problems we are having here – particularly with ports and inland congestion, the difficulties in getting labor and difficulties of keeping cargo and equipment moving as opposed to sitting still at a port or at a customer warehouse – these things are happening all over the world," he said. "In order for all of this to unwind, at least from the ocean shipping side, we need to see improvement in ports all over the world at the same time."
Under pressure
Industry leaders warned that regulatory and legislative measures currently under consideration could have a devastating impact on freight transportation providers, further compounding the supply chain crisis.
Last month, ATA issued a statement against the pending emergency temporary standard from the Occupational Safety and Health Administration (OSHA) requiring COVID vaccinations for workers at companies above the 100-employee threshold.
Spear said many unvaccinated truck drivers that fall under OSHA's proposal have responded that they would leave an employer if they were ordered to be vaccinated. "It would devastate our ability to move not just milk, eggs, bread and fuel, but also [personal protective equipment] and the vaccine itself," he said. "The proposal is trying to solve a problem, and in doing so it is actually making it worse."
Ocean carriers are under fire from the Ocean Shippers Reform Act of 2021, a House proposal introduced earlier this year that Butler said was designed not to combat congestion but to address demurrage issues. He said it also would create a role for the federal government to interfere with shipping operations.
"It really puts the Federal Maritime Commission into an operational role in telling carriers what to put on the ship and when," said Butler. "There is no way the federal government has the expertise or the people to do that. With all due respect, our industry knows how to load ships and move cargo, and to stick the FMC in the middle of that isn't going to make things better. It will make them worse."
Jefferies echoed sentiments from Spear and Butler. "Government intervention and regulatory intervention in the midst of crisis can be extremely damaging and shortsighted," he said. "I really caution policymakers and the administration to refrain from the knee-jerk need to issue an emergency order here or regulation there, likely causing more harm than helping the system overall."
Moving forward
All four panelists agreed that collaboration among transportation modes could help make a more efficient supply chain in the future, while providing better working conditions and productivity for workers could help reduce labor shortages.
"One of the solutions is digital transformation and transparency," said Spear. "Being able to see throughout the supply chain – information transparency is important for the modes as we become more reliant on one another – would be a tremendous boost to efficiency."
Jefferies added the need to leverage more technology to help make truck drivers more productive at ports and rail yards, "using technology so when a driver comes in they are not filling out paperwork. Instead, it is a quick scan and they know exactly where their container is and they are in and out as quick as possible," he said. "It's better for railroad because it gets [cargo] out of the yards and the driver gets more turns in any given day."
Rutkowski called on shippers to establish better lines of communication and develop trust with their transportation providers, adding the ones that have been successful the last several months have already done so.
Whatever changes and improvements arise from the current supply chain crisis, Rutkowski said it has to be better than the status quo.
"We shouldn't go back to normal because normal isn't working right now," she said. "We need to come up with a new normal and work together to define what that is. Shippers need to get better about how they communicate with their providers, and providers need to be more forthcoming about the issues they are experiencing."