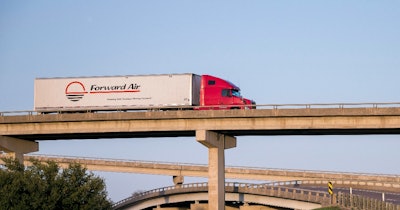 Forward Air
In a move that strengthens its intermodal capabilities, Forward Air Corporation (CCJ Top 250, No. 50) acquired BarOle Trucking, Inc. and the trucking-related assets of TKI Intermodal, LLC, the company confirmed Wednesday.
BarOle Trucking is the largest intermodal carrier in the Twin Cities. Minneapolis-based TKI a is shipping company specializing in container drayage transportation and storage.
"The trucking and logistics industry is under unprecedented pressure, especially within the intermodal market, as we have seen higher demand than normal," said Tom Schmitt, Forward Air chairman and CEO. "The acquisitions are a continuation of our business strategy, empowering us with the additional resources necessary to meet growing customer demand while driving efficiency, market expansion and industry-leading career opportunities."
These acquisitions continue Forward Air's roll-up strategy in intermodal, which it began in 2014 with the acquisition of Central States Trucking and in this recent transaction Forward Air also picks up additional storage yards, chassis and more than 82 new employees, including 95 drivers – quadrupling Forward Air's total number of drivers in the Minneapolis Intermodal market.
The acquisition of BarOle will also provide Forward Air with a larger terminal location, enabling possible future expansion. The company said it is currently evaluating potential opportunity to consolidate its post-closing Minnesota operations into a single location for more efficiency at the terminal.
The BarOle acquisition is expected to close in December. The TKI deal closed in October 2021.