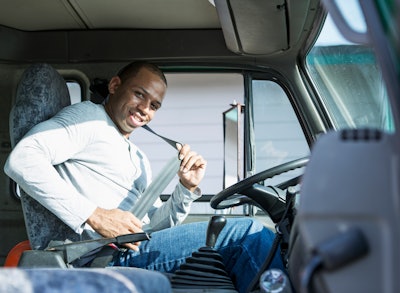 As insurance costs balloon for motor carriers in the age of nuclear verdicts and reptile litigation, Jean Gardner and Schuie Yankelewitz, CEO and COO of the Central Analysis Bureau (CAB) respectively, told attendees at the CCJ Solutions Summit last week the secret to keeping insurance underwriters on your side: Tell your story before the driver data tells it for you. 
An affiliate of CCJ parent company Randall-Reilly, CAB has performed financial analysis in the insurance industry for motor carriers for 85 years. Together, Yankelewitz and Gardner have combined decades of experience in helping carriers get insured and push down costs by leveraging driver data and getting the right message across to underwriters. In that time, Gardner said much has changed, and that now the issue has become more important than ever.
"Years ago when there was a truck accident, it was a truck accident," Gardner said. "Insurance companies could look at the information and particulars of the case and price it appropriately." 
But now, with an explosion of data streams generated from trucks, cars, mobile devices, record keeping and cameras, "every claim is being paid at much higher potentials," she said. 
Gardner pointed to a recent example of a truck-involved accident where the plaintiff pulled up 10 years of violations records on the driver. 
"You're sitting before a judge that doesn't know what you know," about the driver, the driver's history, or the violations or accidents listed, said Gardner, "but the judge said that's enough to keep this case going against the driver for punitive damages that aren't covered by insurance." 
The role of driver data has certainly empowered plaintiffs to seek massive payouts, but according to Yankelewitz, if played correctly, driver data can also empower carriers to get coverage and to get coverage more cheaply. 
Essentially, CAB's strategy toward underwriters is to "answer the question before the question gets answered," said Yankelewitz. "When the underwriter gets the application, if you've answered the questions that show up in it you have a better chance. There is an art to underwriting." 
The art of underwriting and avoiding downward spirals
According to the CAB team, insurers, like most of us, are in a rush. The insurance business has taken on a "swipe right, swipe left" model wherein a few bad stats can get a carrier quickly rejected for coverage. Some insurers will still take on a carrier with bad statistics, but they charge more and can act as a red flag to shippers. 
CAB shared with the CCJ audience a look at dashboards they create for clients that highlight each of the seven factors that go into a carrier's CSA score and Inspection Selection Score. Yankelewitz conceded that the CSA scores don't please everyone, but ultimately, "nobody is going to come up with a scoring methodology that everyone agrees with."
"If you look at what the government did, there are violations in six categories, and four are driver related. The others are vehicle maintenance and hazmat related," he said. The four driver-related areas are unsafe driving, driver fitness, hours of service and controlled substances. The worse a carrier scores on these metrics, the worse the carriers ISS score gets, which Yankelewitz said only leads to more trouble. 
"ISS score is the score the government uses to prioritize your trucks and drivers at weigh stations with a higher volume of pull overs," he said. "That means the likelihood of being inspected or pulled over increases because the DOT officer saw high score, so he's going to be more critical and assume he'll find something." 
Insurers know that bad CSA scores lead to bad ISS scores, and bad ISS scores lead to more inspections, which lead to more violations and weaker CSA scores. Inspections lead to more time off the road and more time out of service. According to Gardner, that's why ISS scores become "a swipe right, swipe left" situation for insurers, where bad ISS scores often disqualify a carrier within minutes.
Yankelewitz gave one solid strategy for combatting this downward spiral. Basically, no carrier should ever get dinged for a seatbelt violation. 
Yankelewitz gave the examples of two drivers, one speeding and one neglecting to wear a seatbelt. Even though the speeding driver increases their likelihood of crashing and the unbelted driver doesn't, seatbelt violations carry more costs to carriers. 
"The seatbelt is the easiest thing to get right. Just wear it," said Yankelewitz. "If you don't take the time to wear your seatbelt it means other problems. It's not a sign of a safety conscious person. From a correlation standpoint, there are more likely to be other problems. Nobody calls up their insurance provider and says 'I'm going to drive recklessly,'" but showing seatbelt violations communicates just as much, he said. 
Gardner said that eliminating seatbelt violations can change insurance costs "dramatically," and gave an example of a fleet owner who told drivers that anyone who goes six months without a seatbelt violation would get a $50 Amazon gift card. "It was the best money he ever spent," said Gardner. 
How to land better insurance rates
Once a carrier gets a violation, it stays on the record for 24 months, even if a DataQ successfully disputes the violation. For that reason, fleets need to know what data they're showing underwriters and get ahead of any potential red flags. 
"If you preemptively come in and say 'this is what is and what steps we're taking', underwriters see a motor carrier who cares, and that's not just with the insurance companies directly, maybe even if you're going in a broker in between," said Yankelewitz. 
"Don't wait for the question to be reactive. Insurance companies will write companies with red scores, but they're less likely to if you say 'oh, funny you should ask about that' when questions arise. Take the initiative, this data is something that's out there. Everyone is going to look."
According to Gardner, driver retention also impacts rates. 
"One of the key factors that the insurance companies are looking at now is how long those drivers have been with you. Driver retention is critical, but even if you have a driver that's been with you for 15 years and he's good, what the loss runs have shown through workers comp claims are that more accidents happen in the first two years with you no matter how long that driver has been driving. That's because if they come to work for you they're now in equipment they weren't in before," she said. 
So if your fleet has owner-operators working under you that just started, make sure insurers known they're in the same truck they've been driving for years. 
As far as eliminating problem drivers from the fleet, CAB said they have tools to visualize how much money that can save and encouraged fleets to get in touch to see how they could be saving money on insurance.