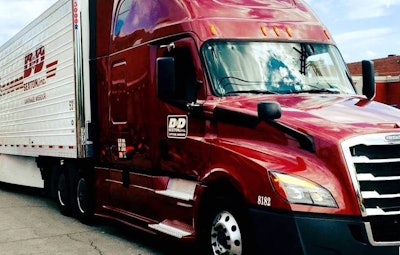 Werner Enterprises (CCJ Top 250, No. 13) on Monday announced it has acquired Monroe, Connecticut-based NEHDS for $64 million – a move that expands the Omaha, Nebraska-based mega-carrier's final mile capacity.
NEHDS operates a fleet of over 400-plus delivery trucks primarily in the Northeast and Midwest U.S. and delivers primarily bulky products with a two-person delivery team performing residential and commercial deliveries through a network of 19 cross-dock, warehouse and customer facilities.
"The addition of the NEHDS operations, management team, talented staff and strong customer relationships to the Werner family represents a significant step forward in our Final Mile delivery program," said Derek Leathers, Werner chairman, president and chief executive officer. "The combination of award-winning service that NEHDS provides to its clients, along with the comprehensive portfolio of trucking capability, final mile logistics services and technology will bring the Werner and NEHDS customer base many advantages."
Werner said NEHDS drivers, operations team, independent contractors and facilities network strengthen its big and bulky products delivery offering by adding asset and employee-based operations with experience in complex deliveries to its already established national network of independent contractor agent locations. The NEHDS leadership team, drivers, non-driver associates, and independent contractors will remain with the business and NEHDS will be rebranded as Werner Final Mile.
TFI buys Missouri reefer carrier
TFI International (CCJ Top 250, No. 7) has acquired Carthage, Missouri-based reefer specialist D&D Sexton.
A family-owned business for more than 40 years D&D has more than 150 company drivers and owner operators, more than 120 tractors and nearly 400 refrigerated and dry van trailers.
"D&D is an excellent strategic fit with the organization, culture, and business model of our CFI operating company, adding strategic capacity and valuable, longstanding customer relationships to its temperature-controlled business," said Alain Bédard, TFI International chairman, president and chief executive officer. "In addition to an overlapping refrigerated freight network, D&D brings significant experience in local and shuttle operations."
Bédard also noted "multiple near-term opportunities around costs, routes and pricing to enhance profitability, as well as longer-term opportunities to optimize equipment and the capacity network design."