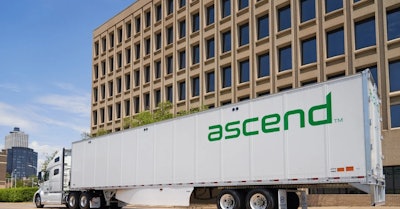 Jackson, Tennessee-based Milan Supply Chain Solutions (CCJ Top 250, No. 145) and its subsidiary J&B Services, based in Pontotoc, Mississippi, have been acquired and will merge to form a new dry van truckload carrier, Ascend. Milan acquired J&B Services in 2018.
The new Atlanta-based now-consolidated carrier will focus on the regional middle-mile market in retail, consumer goods, packaging and industrial supply sectors across the South, Midwest and Mid-Atlantic regions.
"Shippers are placing large warehouses close to urban locations, which increases the need for regional service to connect supply-chain nodes, which is our focus," said Michael McLary, a 30-year industry veteran of UPS and Amazon who will serve as Ascend CEO. "Our goal is to transform the regional truckload sector by leveraging technology, building density and offering driver-friendly routes and policies."
Following a stint with UPS's Coyote Logistics division, McLary built out and ran Amazon's middle mile truckload brokerage division and put together a back haul sales team, while also running Amazon's middle mile technology group.
"While at Amazon, what I saw was this need for a couple of things, one, with consumers wanting faster deliveries – it's no longer a three day, two day, one day, it's I want it in two hours – you've got networks across the U.S. from manufacturers that are pushing product into distribution centers and then that product has to move from distribution centers to sort centers," he said, "and those are all full truckload moves requiring greater just-in-time capabilities. Because if you miss a sort window, or you miss a delivery, it's not one or two packages. You've got 25,000 packages in a truck – or 25,000 products that are now gonna be late for consumers."
"Having seen the capabilities of regional carriers, I had this thought process of 'Let's professionalize the middle mile truckload segment,' and it focused on shipper needs," he said. "And then at the same time, let's be super-specific on our use of technology to build out routings that allow drivers to get at home."
Consolidating Milan and J&B under one umbrella and name, McLary said, helps streamline the flow of business between the carrier and its shipper partners, which is especially important as it sets its sights on future growth.
McLary said his company was drawn to snapping up Milan due on part to its geographic location, "kind of equal distance between Nashville and Memphis," he said. "Lots of freight moving back and forth." West Tennessee is also slated for a $5.6 billion investment from Ford to create an industrial campus about 50 miles northeast of Memphis where the automaker will produce electric trucks and electric vehicle batteries.
Geography aside, McLary lauded Milan for its deployment of technology and its diverse customer base, noting that all three considerations when combined with Ascend's deep bench of expertise (Ascend's board of directors is comprised of senior industry executives with 150-plus years of combined experience from the likes of Amazon, FedEx and UPS), create "a super powerful formula."
"We're very heavily focused on non-cyclical industries – food and beverage, retail and e-commerce, any sort of manufacturing. And so you take the base and couple that with some of the experience from [Ascend's] board partners ... that will really help us build out our density and, and leveraging that hub within Tennessee, that's not where we're gonna stop."
McLary foresees the company – as it marches toward his goals like a tractor count of 4,000 and trailers numbering three times that – will continue to expand into other geographic areas "where we can place terminals and set up relay networks. If you end up with enough density, you can relay OTR and that's great for drivers," he said. "There's nothing better than the driver who can run an up-and-back and get 600 miles in a day rather than going out, staying out for the week, and then coming back home."
CCJ's Top 250 has been a hot place for wheeling and dealing in this young new year, with Bison last week snapping up Maine-based Hartt Transport and Wilson Logistics selling off parts of its Western U.S. division.