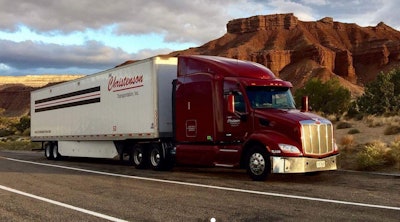 Christenson Transportation has acquired Sharp Transport, a family-owned carrier headquartered in Ethridge, Tennessee.
The deal gives Strafford, Missouri-based Christenson, which operates about 180 trucks, another 120 drivers, including a mix of company drivers and owner-operators. Both carriers largely operate in the same freight lanes in the lower 48 states.
"What really drew us to Sharp Transport, which is a family-owned company that's been around as long as ours — 42 years — was its similar culture built around the drivers that matched ours," said Christenson Transportation President and CEO Don Christenson. "I tell people that it's easy to quit a job but it's hard to quit on your friends and family. Our goal is to make our drivers feel like they are part of our family and Sharp Transport shares that same goal."
The company will operate under the name Sharp Transport, a division of Christenson Transportation, and Allie Sharp-Schwalb, who served as president and CEO of Sharp Transport, will serve as vice president of the company for three years to help with the transition. Christenson also acquired Sharp's brokerage operation, which will be folded into its own brokerage company, CS Carrier Service LLC.
"Transportation has been really good to our family for a lot of years and we just decided it was time to join forces with another family-owned trucking company that shares similar values," said Allie Sharp-Schwalb, whose parents, John and Becky Sharp, founded Sharp Transport in 1979.
Christenson's son, RayVaun Christenson, serves as the Director of Operations of Christenson Transportation. Sharp-Schwalb's nephew, Chase Atkins, will move to his new position as the company's COO.