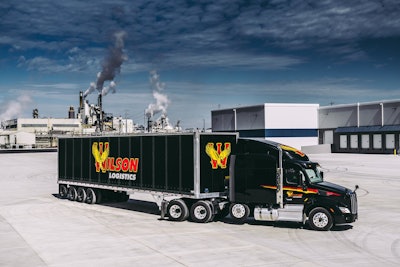 Ashley Furniture has acquired the western division assets of Springfield, Missouri-based Wilson Logistics (CCJ Top 250, No. 100). An affiliate of Ashley Distribution Services (ADS) inked the deal Dec. 27. Terms of the financial transaction were not disclosed.
Under the terms of the deal, ADS will also lease Wilson's western terminals. All non-western U.S.-based Wilson Logistics assets and business are not affected.
The deal will "expand ADS' brokerage and distribution operations in the western United States," Ashley Furniture said in a statement. "We are excited to welcome members of the Wilson team, as we continue to service existing customers and expand upon the strong legacy established by Wilson."
Wilson Logistics has a truckload fleet of more than 1,200 trucks serving the western U.S from terminals in Washington, Oregon, Montana and Missouri. The family-owned company began more than 40 years ago as Wil-Trans and has grown its geography, notably in the Pacific Northwest, and service offerings through the acquisitions of Jim Palmer Trucking, O&S Trucking, RJ's Transportation, Haney Truck Line and Market Transport.
Before the round of acquisitions began in 2014, the company ran a fleet of 175 trucks. It now provides full truckload, heavy-haul and high-cube freight out of multiple locations, which offer yard management services as well. The company also operates dedicated fleets and provides power-only options.
Wisconsin-based parent company Ashley Furniture Industries is the largest manufacturer of home furnishings in the world, with over 20,000 storefronts in 155 countries.
Less than a week into 2022, trucking's acquisition market has been hot with Bison this week snapping up Maine-based Hartt Transport. This year picks up where 2021 left off as CCJ Top 250 fleets like Knight-Swift, Hub Group and P&S Transportation were among the many carries making moves.