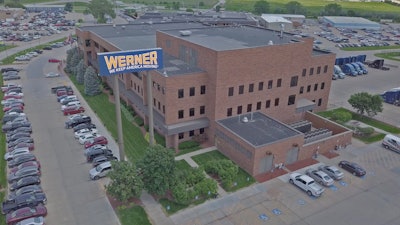 By Reams L
The first quarter of 2022 saw massive stock selloffs in the tech arena and frequent and dire predictions of a "trucking bloodbath" or freight recession on the horizon, but a look at earnings reports from the top fleets in the country shows that business is holding up pretty well. Most fleets reported strong earnings, sometimes setting records, and many said they actually got their long-delayed equipment deliveries.
Furthermore, despite record-high diesel prices and softening demand in some cases, many big fleets now predict conditions to remain good into Q2 and even the rest of 2022. Below are highlights from the earnings reports of top fleets in the country, with special emphasis placed on their predictions for the future and their successes and failures sourcing more capacity.
Covenant says 'what freight recession?'
Covenant (CCJ Top 250, No. 38) posted a strong Q1 with record earnings after acquiring AAT Carriers Inc. in February. The company chalked up the success to strong freight demand despite mounting challenges. The company fully expects 2022 to outpace 2021 in terms of operating results, but acknowledged that wages, insurance, equipment, parts, fuel prices and interest rates were all driving the cost of doing business. "We expect cost pressure to persist even if freight demand moderates," the company said.
"The first quarter yielded strong results from each of our four operating segments, including sequential improvement in our Dedicated truckload segment. Despite economic indicators pointing to a slowing freight economy, the first quarter's freight environment remained robust as a result of strong economic activity, low inventories, and supply chain disruptions, accompanied by constrained capacity due to a national driver and equipment shortage," said Chairman and Chief Executive Officer David R. Parker.
Revenue: 2022 Q1: $291.6 million vs. 2021 Q1: $220.8 million
Income: 2022 Q1: $23.8 million vs. 2021 Q1: $10.5 million
–
Forward Air Corporation predicts smooth sailing
Forward Air Corporation (No. 50) finished off its best Q1 ever by zeroing in on higher revenues per shipment in LTL and strong freight demand. The company expects more of the same in Q2.
"In the first weeks of the second quarter, we have seen continued strength, and believe we will see similar strong performance in the second quarter. Momentum is expected to continue as more and more cruise lines, conferences and trade shows come back. At this point, we are optimistic that we can achieve our previously announced 2023 net income per diluted share of $6.30 in 2022, and are now targeting $6.70 net income per diluted share in 2023 without any major acquisitions," said Tom Schmitt, chairman, president and CEO of Forward Air.
Revenue: 2022 Q1 $466.9 million vs. 2021 Q1: $362.2 million
Income: 2022 Q1 $57.4 million vs. 2021 Q1: $22.7 million
–
Heartland Express predicts rate volatility
Heartland Express (No. 42) reported a solid quarter with slightly higher revenue than 2021's Q4, but admitted to mounting volatility and challenges within the unprecedented freight market, which may show up in the company's lower profitability this quarter.
"Given what we have experienced and based on feedback from our strong group of customers, we expect volatile freight demand throughout 2022 but at volumes that will continue to exceed our available capacity. Hiring and retention challenges continue to exist for our company and the entire industry," said Heartland Express Chief Executive Officer Mike Gerdin.
Revenue: 2022 Q1: $151.3 million vs. 2021 Q1: $152.4 million
Income: 2022 Q1: $22.4 million vs. 2021 Q1: $18.3 million
–
J.B. Hunt cashes in on intermodal
J.B. Hunt (No. 3) saw its revenue increase nearly $1 billion over Q1 of 2022 with all of its segments (Truckload, Integrated Capacity Solutions, Intermodal, Dedicated, and Final Mile) contributing to the rise. Intermodal, the company's largest segment by far, grew revenue 36% YoY while operating income jumped 87%, which the company attributed to "higher customer rate and cost recovery efforts and approximately $14 million of increased gains on the sale of equipment compared to the prior year period." The success in intermodal took place despite what the company described as weakened volumes due to labor challenges and COVID-related disruptions early in the quarter.
The company saw volumes increase across the board such that 2022 Q1's revenue came in at $3.49 billion, just a hair shy of 2021 Q4's revenue of $3.5 billion, despite Q4 generally being the busier period.
Revenue: 2022 Q1 $3.49 billion vs. 2021 Q1: $2.61 billion
Income: 2022 Q1: $334.3 million vs. 2021 Q1: $207.6 million
–
Knight-Swift Transportation invests for longterm growth
Knight-Swift Transportation Holdings Inc. (No. 4) grew every segment of its business, acquired new businesses and grew its trailer count despite switching rail providers and struggling with chassis allocations. The company beat its 2021 Q4 on revenue by just $10 million, but saw its operating income dip nearly $40 million over the same period as costs rise.
Dave Jackson, CEO of Knight-Swift, commented, "We continue to grow and diversify our business while improving our results and achieved revenue growth and margin expansion in every segment, including recently-acquired AAA Cooper Transportation ("ACT") and MME, which together operated at an 85.9% Adjusted Operating Ratio during the quarter. Additionally, we expanded our network during the quarter by adding six LTL terminals, five in the Texas market and one in Las Vegas, which we will incorporate into the network in the coming quarters. Our non-truckload operations have grown to represent over 40% of our total revenue in the first quarter. We continue to see improvement in contract rates within our Truckload segment, leading to less exposure to the spot market. Logistics continues to grow load count, both through our power-only service offering and our traditional brokerage services, resulting in a Logistics gross margin of 20.2% for the current quarter. Margins within our Intermodal segment remain strong, and we anticipate year-over-year load count growth in the second half of 2022 as we build our customer base following our recent transition to the Union Pacific.
Revenue: 2022 Q1: $1.8 billion vs. 2021 Q1: $1.2 billion
Income: 2022 Q1: $298 million vs. 2021 Q1: $162.3 million
–
Landstar rides out a 27% increase in fuel costs
Landstar System, Inc. (No. 9) narrowly beat its revenue record with $.1971 billion in Q1, but brought in slightly less income than Q4 of 2022. The company pulled fully 89% of its revenue from business capacity owners (BCOs) and truck brokerage carriers. Here, Landstar had some interesting things to say on rising fuel costs.
"In March 2022, revenue per load for loads hauled via truck was approximately equal to that of February 2022 even though the cost of a gallon of diesel fuel increased approximately $1, or 27%, from February to March. This suggests a decrease in revenue per load (excluding fuel) in March compared to February on loads hauled via truck brokerage carriers, as the cost of fuel is often reflected in all-in rates billed by Landstar to customers on loads hauled by truck brokerage carriers and included in the Company's revenue. Notably though, revenue per load on loads hauled by BCOs only experienced a slight decrease in March compared to February. In this regard it is important to note that revenue per load on loads hauled by BCOs is typically less sensitive to changes in the cost of diesel fuel as fuel surcharges billed to customers on freight hauled by BCOs are paid 100% by Landstar to the hauling BCO and not included in the Company's revenue," the company's earnings release said.
Revenue: 2022 Q1: $1.9 billion vs. 2021 Q1: $1.2 billion
Income: 2022 Q1: $162.8 million vs. 2021 Q1: $103.3 million
–
Marten Transport set revenue record
Marten Transport (No. 13) set records for operating revenue in 2022 Q1 with a 28.8% YoY improvement and a 7.6% improvement over its previous record set last quarter. The company also beat operating income records with a nearly 50% beat YoY and a 16.9% beat over 2021's Q4. Finally, the company's operating expenses as a percentage of operating revenue improved to 87.5%, another company record.
What did Marten do with the windfall? Hiring drivers, buying trailers, and stock buybacks and dividends, which happened just before a big late Q1 selloff of large carrier stocks.
"We began this year's second quarter with 128 more of the industry's top drivers than we employed at the beginning of the year, despite the unrelenting national shortage of qualified drivers. We also added 95 refrigerated containers during the first quarter, increasing our fleet to 729 containers as of March 31st," Executive Chairman Randolph L. Marten said. "Additionally, reflecting our confidence in Marten's financial strength and commitment to enhancing stockholder value, we repurchased and retired 1.3 million shares of our common stock for $25 million and increased our regular quarterly cash dividend by 50% during the first quarter of 2022."
Revenue: 2022 Q1: $287.2 million vs. 2021 Q1: $223 million
Income: 2022 Q1: $35.9 million vs. 2021 Q1: $24 million
–
Old Dominion Freight Line sees LTL boom
Old Dominion Freight Line (No. 10) set a revenue record in Q1 of 2022 with a nearly 33% YoY beat. The company chalked up the jump in revenue to a booming LTL segment which saw an increase in volumes and rates per hundredweight. Furthermore, the company managed to add employees while keeping labor costs down.
"Our salaries, wages and benefit costs as a percent of revenue improved to 45.4% from 48.4% in the first quarter of 2021, which more than offset the increases in purchased transportation and operating supplies and expenses. The increase in operating supplies and expenses reflects the significant increase in the cost of diesel fuel and other petroleum-based products during the quarter. Our average number of full-time employees increased 18.5% during the first quarter, and we intend to continue hiring additional employees during the second quarter of 2022 to support our anticipated growth and reduce our reliance on purchased transportation," Greg C. Gantt, president and CEO of Old Dominion said.
Revenue: 2022 Q1: $1.5 billion vs. 2021 Q1: $1.1 billion
Income: 2022 Q1: $405.6 million vs. 2021 Q1: $269.7 million
–
P.A.M. Transport posts record quarter despite headwinds
PAM Transport (No. 58) overcame some severe weather challenges and "the negative impact of a loss estimate for a claim anticipated to settle in excess of insurance policy limits" to post its best Q1 ever. The company reported receiving substantially all of its 2021 equipment orders and a few orders for 2022, though the company expects most 2022 equipment deliveries to come in the second half of the year, meaning its fleet will age a bit more than it would like.
Revenue: 2022 Q1: $219.4 million vs. 2021 Q1: $135.1 million
Income: 2022 Q1: $31.3 million vs. 2021 Q1: $13.7 million
–
Schneider National reaping benefit from Midwest acquistion
Schneider National (No. 8) saw its revenue stay mostly flat from Q4 2022 and a dip in profitability due to capacity headaches. But, measured from last year's Q1, the company showed a 32% revenue and 77% income jump.
"During the first quarter, revenue management and new dedicated business helped mitigate inflationary cost pressures and ongoing capacity headwinds in our network truckload business. Our recent acquisition, Midwest Logistics Systems, is performing well, and we have begun to realize anticipated synergies," Mark Rourke, Chief Executive Officer and President of Schneider said. "Revenue per order grew 16% in our Intermodal segment, supported by container additions and effective revenue management, while our Logistics segment, augmented by expansion of our Power Only offering and Schneider FreightPower®, grew both revenue and earnings over the prior year and delivered a record operating ratio of 92.3%."
Revenue: 2022 Q1: $1.6 billion vs. 2021 Q1: $1.2 billion
Income: 2022 Q1: $135.1 million vs. 2021 Q1: $76.2 million
—
USA Truck revenue per tractor rockets
USA Truck (No. 68) posted its best-ever Q1 with base revenue per available tractor per week jumping 11.8% over Q1 2021 and base revenue per loaded mile up 41 cents, or about 16.7%. The company did see some slowdown from Q4 2021, but continued to see strong rates and demand.
Revenue: 2022 Q1: $116 million vs. 2021 Q1: $103.1 million
Income: 2022 Q1: $12.6 million vs. 2021 Q1: $3.5 million
–
U.S. Xpress shakes off hangover from Variant's crash
U.S. Xpress (No. 16) reported strong revenue but a small operating loss as it tries to recover from the failure caused by Variant, the supposedly tech-heavy approach to trucking that failed last quarter.
"During the first quarter we made progress improving Variant's key metrics, which contributed to sequential operating margin improvement despite the seasonally slower first quarter. Last quarter, we identified improving Variant's key metrics and overall fleet growth as keys to sequential improvement through 2022," said Eric Fuller, President and CEO. "During the quarter, we were successful in sequentially growing Variant's fleet 9% and improving Variant's revenue productivity by $325 per tractor per week with mixed results in Variant's other key metrics. In addition, our Dedicated division increased revenue per tractor per week by approximately $555, which also contributed to the sequential operating margin improvement in the first quarter. I am proud of our team for the tremendous progress made in just one quarter, and I am confident that we can execute on the large opportunity ahead of us, much of which we believe is under our control," the company said.
Revenue: 2022 Q1: $517.2 million vs. 2021 Q1: $450.7 million
Income: 2022 Q1: ($.2 million) vs. 2021 Q1: $7.9 million
–
Werner breaks quarterly record for 7th time
Werner (No. 40) managed to grow its fleet and even make some money selling used equipment while riding high rates to increased truckload revenue in the face of higher driver pay and labor sourcing costs. The company had some unrealized losses when its investments into autonomous driving tech companies declined, but overall it posted strong results.
"The Werner team once again achieved strong first quarter results in our Truckload Transportation Services and Logistics segments," said Derek J. Leathers, Chairman, President and Chief Executive Officer. "This was our seventh consecutive quarter of record quarterly adjusted earnings per share. We are delivering superior service with valued capacity solutions for our winning customers. Our durable and resilient business model is performing well, and Werner is built to thrive over the long-term regardless of the economic and freight environments."
Revenue: 2022 Q1: $764.6 million vs. 2021 Q1: $616.4 million
Income: 2022 Q1: $83.5 million vs. 2021 Q1: $62.5 million
–
XPO Logistics raises 2022 outlook
XPO Logistics (No. 6) is in the middle of spinning off its side businesses, but still posted a strong quarter for revenue and income. The company raised its outlook for 2022 and expected its North American LTL business to improve its operating ratio by 100 basis points while doing at least $1 billion in revenue.
Brad Jacobs, chairman and chief executive officer of XPO Logistics, said, "We delivered a record first quarter, with significant beats across revenue, net income, adjusted EBITDA and adjusted EPS. We're executing on multiple avenues for value creation — the spin-off of our tech-enabled brokered services platform, the sale or listing of our European business, our continued deleveraging, and company-specific initiatives for the ongoing transformation of our North American LTL business.
Revenue: 2022 Q1: $3.5 billion vs. 2021 Q1: $2.9 billion
Income: 2022 Q1: $625 million vs. 2021 Q1: $139 million
–
Yellow Corporation posts loss
Yellow Corporation (No. 5) saw a net loss this quarter of $27.5 million on $1.26 billion, which it attributed to pension plan adjustments and changes in the value of plan assets. The fleet did pick up more than 2,400 new tractors and 3,600 trailers, which has lowered the average age of the tractor fleet by as much as 2 years and should help mitigate expenses down the line.
"We finished the quarter on a strong note, despite challenges in January and February, and reported our best first quarter Adjusted EBITDA and operating income, excluding property disposals, in six years," said Darren Hawkins, chief executive officer. "Our focus remains on meeting the needs of our customers and maximizing the value of the capacity that Yellow brings to the market. Driven by strong demand, first quarter year-over-year LTL revenue per hundredweight increased 30.5%. The percentage decline in year-over-year monthly tonnage peaked in February, following a strategic decision to limit terminal operations in select markets that lasted a few days. We continue to see strong demand for LTL capacity and our goal remains to deliver a steady staircase of financial improvement.
Revenue: 2022 Q1: $1.3 billion vs. 2021 Q1: $1.2 billion
Income: 2022 Q1: $9.2 million vs. 2021 Q1: ($27.6 million)