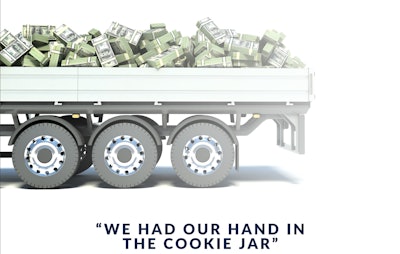 South Carolina Rep. James E. Clyburn on Wednesday issued a staff report presenting "troubling new evidence" that officials from the Trump administration and Teamsters Union worked together in 2020 to ensure that Yellow Corporation (CCJ Top 250, No. 5) would receive a $700 million loan as part of the CARES Act.
Clyburn, a Democrat, also instructed the Office of Inspector General to "investigate whether any of the misleading representations Yellow made in applying for its loan constitute knowing false claims and false statements within the meaning of the False Claims Act, or otherwise violate federal law."
The report lays out a timeline that shows Department of Defense (DoD) officials initially deemed that Yellow – which provides 68% of the Pentagon's LTL service – was not "critical" to national security, and therefore not eligible to receive a loan under the CARES Act. The timeline alleges that after Teamsters President James Hoffa spoke to former President Donald Trump and other top ranking officials, Yellow was certified as critical to national security, despite DoD officials previously determining other trucking companies could take its place.
Yellow said it employs 24,000 Brotherhood of Teamsters members.
[Related: Trucking secures as much as $12 billion in government-backed PPP loans]
Furthermore, the investigation revealed that "Yellow CFO Jamie Pierson sent the company's existing creditors a summary of its $710 million loan request, with $365 million of the request designated for capital investments in new tractors, trailers and technology."
"While we had our hand in the cookie jar, we thought we would try to get a little 'catch up' capex [capital expenditures] while we were at it," he said in an email sent to private creditors at Apollo on May, 1, 2020.
The subcommittee in October began looking into the loan, and Yellow had been a subject of an unrelated DoD investigation for 13 years until recently settling. According to the Department of Justice, in that case Yellow was ordered to pay approximately $6.85 million to resolve allegations under the False Claims Act that they "knowingly presented false claims to the DoD by systematically overcharging for freight carrier services and making false statements to hide their misconduct." The government alleged that Yellow (then branded as YRC) fraudulently billed the DoD based on higher weights when, after reweighing the shipments, they allegedly knew the weights were lower.
Yellow disputed the report's findings in a lengthy statement sent to CCJ, calling the allegations "unsubstantiated, and indeed demonstrably false" and that the company had "diligently and voluntarily cooperated" with the investigation.
"Yellow is one of the nation's largest less-than-truckload carriers and a major LTL service provider for the Department of Defense with expertise in critical military supply chain operations," and is "also a leading carrier for the Department of Homeland Security and the Department of Energy," the statement said in defending its status as "critical" to national security.
Yellow didn't deny its use of the CARES Act funds to make capital investments, and instead insisted they were completely proper and in line with negotiations the firm had with the Treasury.