Trucking news and briefs for Tuesday, April 26, 2022:
Walmart opens new port distribution facility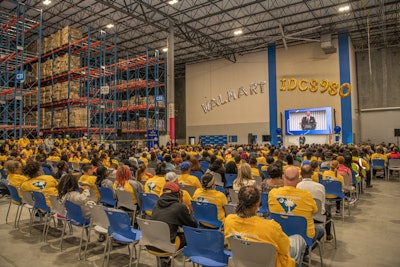 Walmart has opened a $220 million Import Distribution Center in Ridgeville, S.C. 
Dorchester County was selected as an ideal location due to South Carolina's business friendly environment as well as the proximity to the nearby deep-water Port of Charleston. The new Import Distribution Center will store and sort imported goods that arrive through the Port of Charleston– the country's eighth-largest port—for delivery to 850 regional Walmart and Sam's Club locations across the Southeast. Once fully operational, the facility is expected to increase local port volumes by approximately 5%. The three million square-foot facility (equivalent in size to 52 football fields) will become Walmart's first Import Distribution Center in the state of South Carolina to leverage the port.
"Our team of more than 980 associates from Dorchester County and the surrounding communities are excited to officially open the doors to our new Import Distribution Center," said Jeff Holzbauer, general manager, Import Distribution Center #8980, Walmart U.S. "South Carolina is home to some of the country's most convenient and efficient modes of transportation, including the Port of Charleston and Interstates 26 and 95. Being a member of this community means having the advantage of the region's existing infrastructure as well as a pool of experienced associates familiar with it. Cutting this ribbon today signifies our commitment to that community."
U.S. border vax mandate extended
The Department of Homeland Security said it will continue to require non-U.S. travelers entering the United States via land ports of entry and ferry terminals at the U.S.-Mexico and U.S.-Canada borders to be fully vaccinated against COVID-19 and provide proof of vaccination upon request.
These requirements will continue to apply to non-U.S. travelers who are traveling both for essential and non-essential reasons, including truck drivers, and do not apply to U.S. citizens, Lawful Permanent Residents, or U.S. nationals. DHS says the requirements were extended in consultation with the Centers for Disease Control and Prevention (CDC) and several other federal agencies. Non-U.S. travelers entering the United States via land ports of entry and ferry terminals, whether for essential or non-essential reasons, must continue to verbally attest to their COVID-19 vaccination status; provide, upon request, proof of a CDC-approved COVID-19 vaccination, as outlined on the CDC website; present a valid Western Hemisphere Travel Initiative (WHTI)-compliant document, such as a valid passport, Trusted Traveler Program card, or Enhanced Tribal Card; and be prepared to present any other relevant documents requested by a U.S. Customs and Border Protection (CBP) officer during a border inspection. COVID-19 testing is not required to enter the United States via a land port of entry or ferry terminal.
Ryder opens third multi-client omnichannel distribution center in Columbus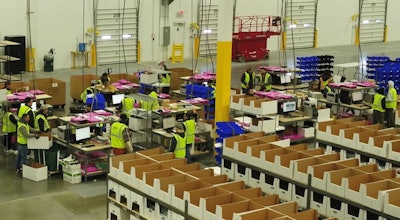 Ryder System on Monday opened its third multi-client omnichannel distribution center in Columbus, Ohio, a key region for e-commerce fulfillment. Columbus is the nation's fastest-growing large metro area (according to U.S. Census Bureau 2021 figures), and Ryder's new Columbus distribution center provides access to more Americans within 500 miles than any other major inland or coastal port – serving nearly 50% of the U.S. population within a 10-hour truck drive. 
At nearly 440,000 square feet, the facility is the largest Ryder e-commerce distribution center in the Columbus area, and the first to open under the company's new supply chain offering: Ryder E-Commerce by Whiplash.
Ryder acquired Whiplash in January for $480 million, giving the company an e-commerce and omnichannel fulfillment solution "with best-in-class technology and a proven operating platform, which will serve as the backbone of this new facility and the cornerstone of Ryder's e-commerce fulfillment solution," said Steve Sensing, president of global supply chain solutions for Ryder. "This latest expansion aligns with our broader strategy to get ever-closer to the end consumer to continually improve our customers' speed-to-market, which is critical in today's highly competitive environment."
Ryder now operates 22 multiclient and dedicated e-commerce facilities across the U.S., with the ability to deliver to 100% of the population within two days and 60% within one day.
The new facility features 42 cross-dock positions, 99 trailer spaces, and offers a full range of logistics and value-added services. It also features automation enhancements, such as robot-assisted order picking, which enable warehouse workers to focus on higher-productivity tasks; reduce overall labor costs; improve safety and retention; and enable seamless scaling within the same footprint.
To support the new distribution center located at 1225 Southgate Pkwy. in Etna, Ohio, Ryder expects to recruit a team of approximately 250 people to fill a variety of positions, including warehouse associates, engineers, leadership and management, and support roles.
Recently, Ryder announced another expansion of its e-commerce fulfillment and multiclient warehousing network with a new, high-tech 678,000-square-foot facility in the Atlanta area. The facility, with easy access to extensive highway and railroad networks, is scheduled for completion later this year.